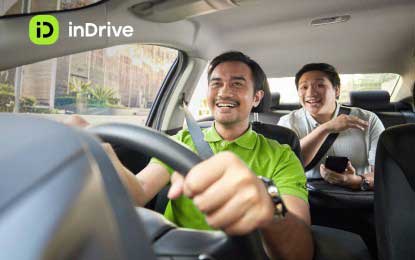 MANILA – A new ride-hailing company entering the Philippine market has identified five key cities to launch its services.
California-based global mobility and urban services platform inDrive announced Thursday it is looking at Manila, Cebu, Davao, Bacolod, and Baguio as initial locations to establish its presence in the Philippines.
In a statement, inDrive founder and chief executive officer Arsen Tomsky said the firm's plan to enter the Philippine market aims to provide mobility solutions for commuting Filipinos.
"Ride-hailing services are not just a matter of convenience, but a necessity. As the world returns to its busy state, moving around can be a challenge, particularly for people who do not own vehicles. We hope to ease this burden, while providing opportunities for drivers to earn more," Tomsky said.
He added the Philippines is an important market for inDrive's expansion in Southeast Asia, which ride-hailing sector is expected to grow to USD20 billion by 2025.
The company said after establishing its presence in the five cities, it will partner with local companies to offer its other services.
Aside from city rides, inDrive mobility also offers city to city as well as courier and freight deliveries.
Last week, Tomsky said inDrive applied for a transport network vehicle service license with the Land Transportation Franchising and Regulatory Board in January this year.
Grab currently dominates the four-wheel ride-hailing market in the country after it acquired its competitor Uber.
"inDrive's app allows passengers to propose a fare for their ride. Drivers can accept, decline or make a counter-offer, without the risk of being penalized," the company said.
inDrive, formerly App Annie, is the second most downloaded mobility application in 2022 with 175 million downloads.
It operates in 617 cities in 47 countries with a total of two billion rides. (PNA)