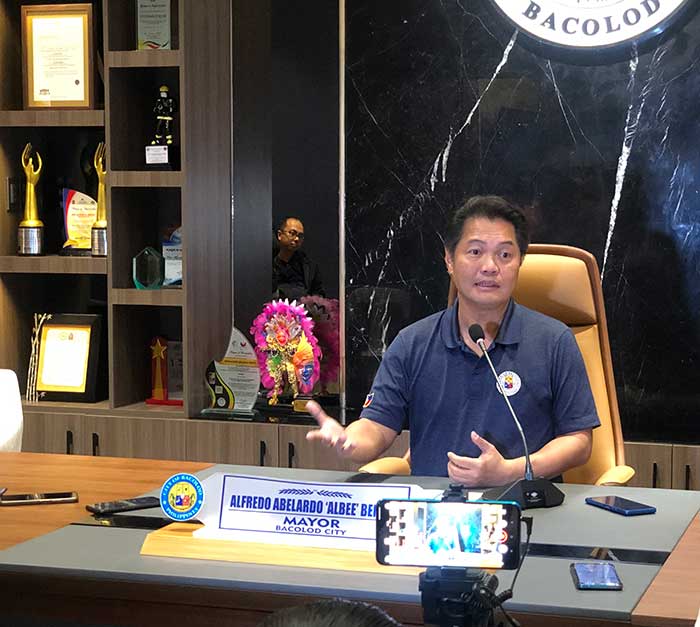 By Glazyl Y. Masculino
BACOLOD City – Mayor Alfredo "Albee" Benitez has urged newly-elected barangay officials to file charges against former barangay officials here with missing assets.
In a press briefing yesterday, Benitez said that the transition of assets, documents, and properties from the previous administration to the new administration in 61 barangays is already 100 percent complete, as of yesterday.
But initial assessment has yet to be conducted.
Last week, Benitez issued a memorandum order, instructing all incumbent barangay and Sangguniang Kabataan (SK) officials to fast-track the conduct of the final inventory of the barangay and SK properties, financial records, documents and properties, (PFRDs), and money accountabilities, pursuant to a memorandum of the Department of Interior and Local Government (DILG).
Benitez said that if there are missing assets, the newly-elected barangay captains should not sign the document or else they will be responsible for it.
"The previous administration has to explain where these assets are, and what happened to it," he added.
"Kun indi na makit-an, that's the responsibility of the previous administration na sabton," Benitez said, adding that the new administration should be able to determine what's existing and what's missing from the day he or she assumes office.
Benitez said the local government will assist the village chiefs in the assessment of assets and funds, as this will be in collaboration with the Commission on Audit (COA) and the City Accounting Office.
"It doesn't mean kung wala money sa bank, wala na funds," Benitez said, adding that they will have to trace the account and documents to check if the previous administration underwent the proper disbursement of funds.
Benitez said the basis should not be bank statements, but documents showing that the appropriation or expenses of the previous administration were in order.