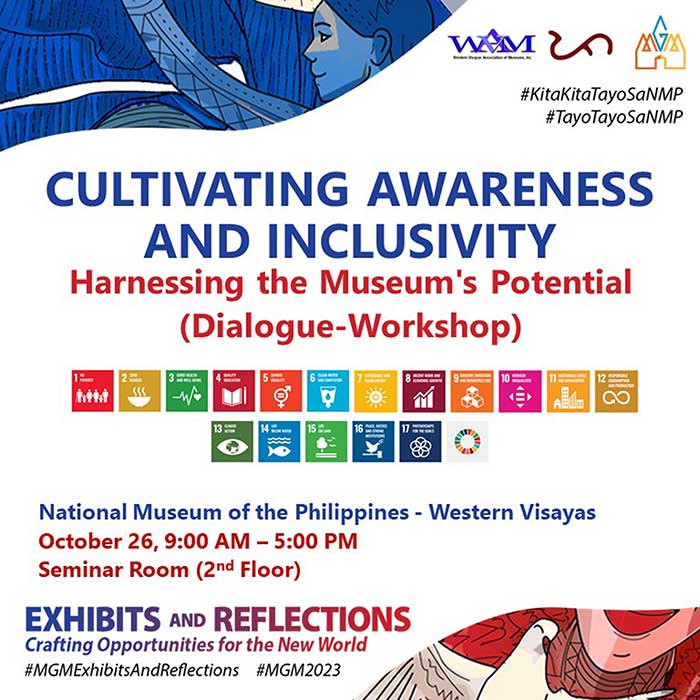 The heritage sector plays an important role in achieving the 17 Sustainable Development Goals.
This will be highlighted in the "Cultivating Awareness and Inclusivity: Harnessing the Museum's Potential", a dialogue-workshop organized by the National Museum of the Philippines in Western Visayas on October 26, 9AM to 5PM at the Seminar Room of at the Seminar Room of National Museum Western Visayas (former Prison of Iloilo), Provincial Capitol Complex, Iloilo City.
It will gather the region's stakeholders in the heritage and tourism sectors, the academe, the indigenous peoples' communities, and museum professionals.
The dialogue-workshop will explore the cultural, social, and gender-sensitive aspects of museum curation, programming, and community engagement.
With the insights from participants and resource speakers, the dialogue-workshop will analyze the relevance of museums through the lens of SDGs, with focus on gender sensitivity, inclusivity, and universal access.
It will also call for action to dispel harmful stereotypes against minorities by curating exhibitions that celebrate local heritage or promoting public programs that embrace cultural diversity.
To enhance their social impact, museums can actively ensure that people from all backgrounds can engage in cultural experiences
Funded by NMP GAD Focal Point System, the event is in partnership with the University of the Philippines Visayas and Western Visayas Association of Museums, Inc.
The activity is in line with the Museums and Galleries Month's theme, "Exhibits and Reflections: Crafting Opportunities for the New World." It also supports the celebration of October as Indigenous Peoples' Month.