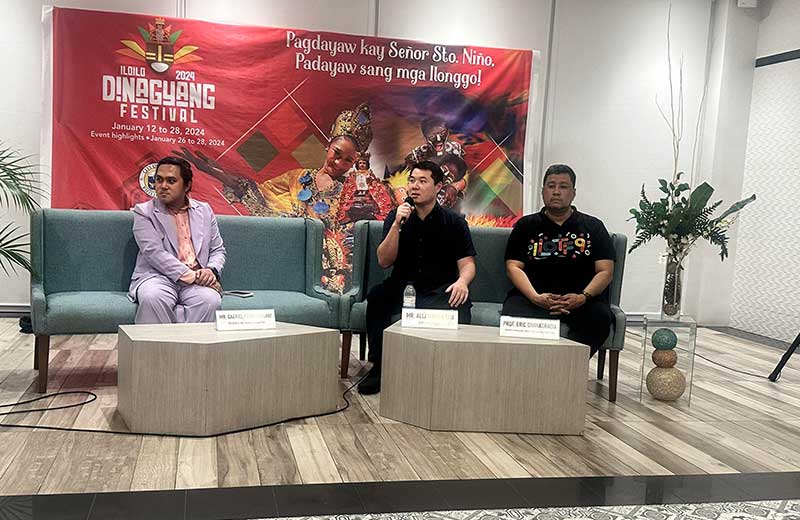 By Jennifer P. Rendon
Deviating from previous face-to-face celebrations, the Iloilo City government announced that it would no longer implement mobile phone signal jamming during Dinagyang Festival 2024.
Executive Assistant Gabriel Umadhay confirmed the decision during the press conference for the "100-Day Countdown to Iloilo Dinagyang 2024" event on Oct. 20 at Park Inn Hotel in Mandurriao, Iloilo City.
"There will be no signal blockage," Umadhay said on behalf of the city government.
But Umadhay stressed that bomb jokes and any terrorism-related jests will not be tolerated.
"We will treat them seriously as if there's a penalty," he said.
Umadhay said they would see to it that everybody would regard their security seriously "because we want to make that the festivities will be the safest and most fun Dinagyang celebration."
He cited that maximum security efforts will be implemented like heightened police visibility.
The implementation of signal jamming, which turned out to be more of a signal shutdown, during Dinagyang 2023 was widely criticized.
Food delivery riders claimed losing income for several hours because of it.
Even Iloilo City Mayor Jerry Treñas announced they would do away with the signal jamming in next year's Dinagyang.
Meanwhile, Umadhay said the PNP deployed around 3,000 personnel in last year's Dinagyang.
"I hope they could deploy the same personnel or even more," he said.
For Dinagyang 2024, Iloilo Festivals Foundation Inc. (IFFI) president Allan Ryan Tan said they're expecting the number of visitors to double.
"For Dinagyang 2023, we have a good number of tourist arrivals. We expect more because people are aware of the Dinagyang on top of the recognition it has achieved this year," he said.
When asked about the number of visitors and spectators, IFFI executive director Joyce Clavecillas said around 200,000 spectators witnessed Dinagyang 2023, citing police estimates.
Dinagyang ILOmination gathered a crowd of around 100,000 while the Dinagyang tribes competition saw an estimated 50,000 spectators.
At the peak of the food festival, there were around 50,000 individuals.
"That's why, for the 2024 Dinagyang celebration, we have spread out the activities in the downtown and uptown areas to accommodate more visitors from all over the country and abroad," she said.
Clavecillas said that the kick-off of Dinagyang festivities was also spread in a two-week period compared to the previous years' one-week celebration.