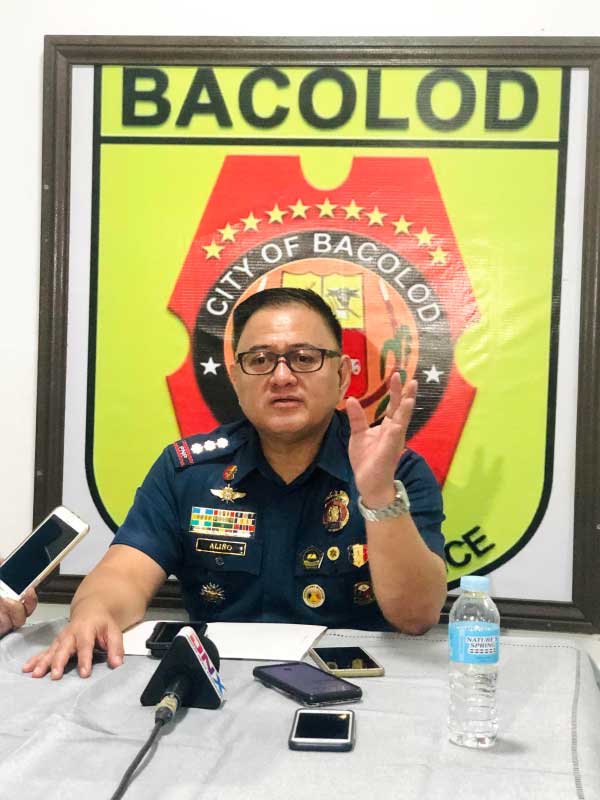 By Glazyl Y. Masculino
BACOLOD City – Police Colonel Noel Aliño, acting director of Bacolod City Police Office (BCPO), said the drug situation here is not alarming despite the seizure of P5.4 million worth of suspected drugs at Barangay Pahanocoy.
Operatives of the City Drug Enforcement Unit (CDEU) arrested 26-year-old Rene Lapera Jr. in a buy-bust operation after he allegedly yielded 800 grams of suspected shabu last Sunday.
The seizure was part of the P13 million worth of illegal drugs recovered in the past two months under Aliño's stint.
Aliño said that these illegal drugs were transported here through a seaport. But he refused to provide more details as they are conducting an investigation for a follow-up operation.
Aliño, however, said that the BCPO is intensifying its coordination with seaports and the Philippine Drug Enforcement Agency (PDEA) to prevent the entry of illegal drugs here.
Aliño said the suspect in the P5.4-million drug haul was arrested for a drug offense last year.
"Tama na iyong paulit-ulit na nahuhuli, tapos nakakawala rin. Palaging ganun ang eksena. Ngayon, hindi na natin papayagan," Aliño said, as he stressed that they will hit the ground running.
Aliño said they will check the links of the arrested drug suspects to determine their sources and also possible protectors.
"It's time na matapos na. Hanggang kailan ganyan?," he asked.
He said that he will not allow the dismissal of cases in illegal drugs here to prevent repeat offenders from going in and out of jail.
He said that some drug cases were dismissed because of some technicalities like the handling of evidence.
He did not elaborate but said police continue to undergo training and seminars so that they can be equipped with knowledge on the proper handling of evidence.
"Hindi naman puwedeng, huli ng huli tapos madidismiss lang din naman," he said.
He said there is a committee that will review the possible lapses of the police officers, and they may be charged for the said outcome of the case. Ang accomplishment kasi is iyong conviction of a drug lord or drug pusher," he added.
Aliño said the BCPO is planning every operation based on an intelligence drive since they are targeting big fish this time, and not just small-time drug pushers or users.
Meanwhile, Aliño said only one drug group exists here – the Caunda drug group led by an alleged female drug pusher.
Cader Chisno Magondacan, who has been identified as a sub-group leader of the Caunda drug group was arrested in Compostela town in Cebu province on June 2.
Magondacan is facing criminal cases for violation of Section 5 (sale of dangerous drugs) with Section 26 (b) Article 2 of Republic Act 9165 or the Comprehensive Dangerous Drugs Act of 2002.
Police records indicated that the suspect was arrested through an arrest warrant issued by Regional Trial Court Branch 41 Acting Presiding Judge Phoebe Gargantiel-Balbin on June 17, 2020.
Despite the arrest of the sub-group leader, Aliño said they are still investigating the said drug group.