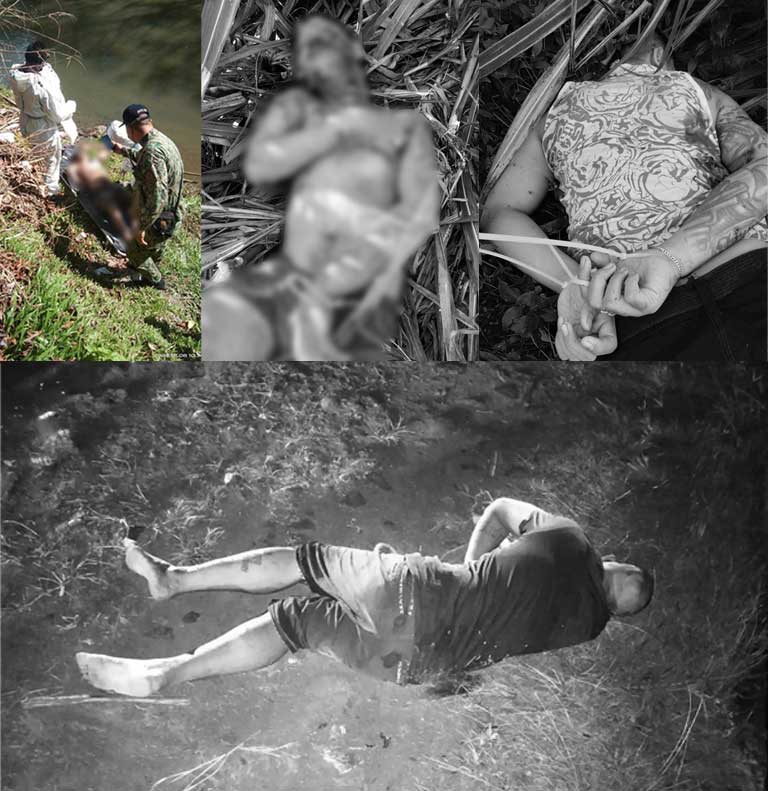 By Glazyl Y. Masculino
BACOLOD City – Police Colonel Thomas Joseph Martir, director of Bacolod City Police Office (BCPO) ordered a thorough investigation on the abduction and murder incidents victimizing Bacolod residents over the weekend.
This, after four persons, who were tagged as part of the "Aki Cuadra" robbery hold-up group, were found dead in separate areas here and in two localities in Negros Occidental last Saturday.
Police identified the victims as Arnold "Aki" Cuadra, 30, of Barangay 2, an alleged notorious rob group leader; and suspected members Jhundelle Rafols, 25, his cousin Leonil Rafols Jr., 26, both residents of Barangay 1; and a certain "Kogan", who was later identified as Rene Boy Dacillo, 30, of Barangay Vista Alegre.
The four victims were reportedly abducted by several unidentified armed men on board two vehicles from Cuadra's rented house in Barangay Vista Alegre here late Friday night, according to Police Captain Elmer Bonilla, head of Police Station 7.
Several gunshots were heard during the incident, Bonilla said.
The following day, Dacillo's body was found with gunshot wounds at an irrigation in Barangay Atipuluan, Bago City.
Police Staff Master Sergeant Job Ogares, chief investigator of Bago City Police Station, said there's a possibility that the victim was killed in the area, as gunshots were heard by nearby residents, although no bullets were recovered.
A few hours later, the bodies of the Rafols cousins were found in a sugarcane field in Barangay Blumentritt, Murcia town.
Police Lieutenant Frankie Paciente, deputy police chief of Murcia Municipal Police Station, said that Jhundelle was hogtied, while Leonil was half-naked when found.
Both victims suffered gunshot wounds in the body.
Paciente said that a white van was reportedly seen in the area prior to the discovery of their bodies.
He added that the perpetrators probably killed Jhundelle in the area, since empty shells of .38 caliber, .45 caliber, and .30 caliber carbine ammunitions were recovered beside him, while Leonil was believed to have been dead already before he was dumped in the area.
An hour later, Cuadra's body with a gunshot wound was found in a riverbank in Barangay Villamonte here.
Bonilla said that Cuadra managed to run when the abductors stormed their rented house. But the suspects probably chased and shot him.
"Basi nakalangoy pa siya tabok suba, kag didto nadula-an ginhawa," Bonilla said, adding that Barangay Villamonte is adjacent to Barangay Vista Alegre.
Bonilla said that Cuadra has standing arrest warrants for various offenses here, including illegal drugs and robbery hold-up.
Meanwhile, Police Major Ritchie Gohee, head of Police Station 4, said that Cuadra was allegedly involved in a robbery hold-up incident in Barangay Villamonte last year, but he managed to escape. His companions were charged but were able to post bail for the said offense.
In 2017, the BCPO has formed a tracker team to arrest Cuadra and his group's members, following series of robbery hold-up incidents at that time.
For his part, Martir said that police will investigate the truth behind the killings. "The police are always there to secure everybody," Martir said, as he assured Bacolodnons that there is nothing to be alarmed of.
Martir said the victims were reported to be involved in robbery hold-up incidents.
"Basi modus operandi man na nila na marent salakyan and manulod mga balay, kay dugay na sila ga operate, most probably sila-sila lang man guro," Martir said.
Martir believed that failed transactions between the group's members probably triggered the incident. "Basi onsehanay man bala sa grupo," he said.
On the other hand, Leonil's grandmother over Aksyon Radyo Bacolod, said that her grandson was just implicated in Cuadra's group, as she denied the allegations against him, saying that the victim was not involved in illegal drugs or any illegal activity.