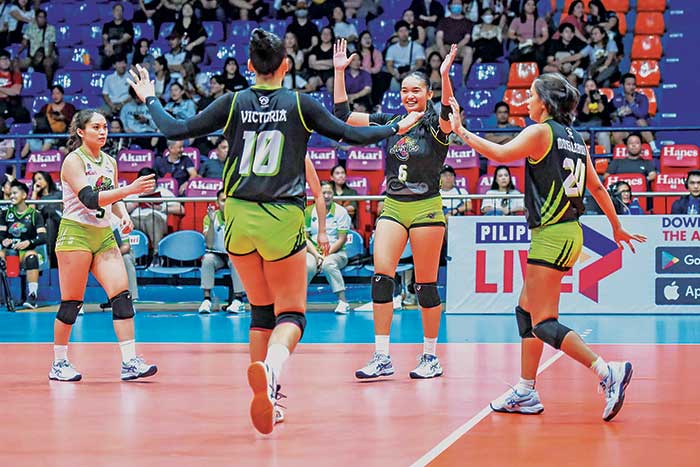 By Leobert Julian A. de la Peña
The NXLED Chameleons' waxing-hot run in the ongoing Premier Volleyball League (PVL) All-Filipino Conference is still on full display after sweeping Galeries Tower, 25-22, 25-18, 25-17, last November 16, 2023, held at the FilOil EcoOil Centre.
With the win, the Chameleons just tasted its first-ever winning streak of the All-Filipino Conference and just boosted its chances of a late playoff spot.
NXLED picked up where they left off during their huge victory against Akari two days ago and were firing from all cylinders against the struggling Galeries squad.
Galeries still made it an interesting toe-to-toe affair in the opening set when they matched NXLED's intensity on both ends of the floor.
However, after a service error and a missed offensive execution, Galeries faltered in the final stretch of the first set and rewarded NXLED with a 1-0 lead.
Eager to shake off their rusty start, the Chameleons banked on their signature 1-2 quick cross-court attacks to pile up the points midway through the second set.
Despite Galeries' tremendous floor defense, the Chameleons proved to be too much with their varied scoring approach and were too clever with the ball during the long rally exchanges.
It was all NXLED in the last two sets as they punished the Galeries with their blazing attacks from the back row led by their star setter Camille Kal.
Jho Maraguinot then took over to close the show and ended their second straight win with 13 big markers alongside seven excellent digs and six excellent receptions.
Meanwhile, the duo of Krich Macaslang and Lycha Ebon backstopped Maraguinot with 11 and 10 points, respectively.
The Chameleons will look to make it three wins in a row against the mighty Creamline Cool Smashers on November 23, 2023.