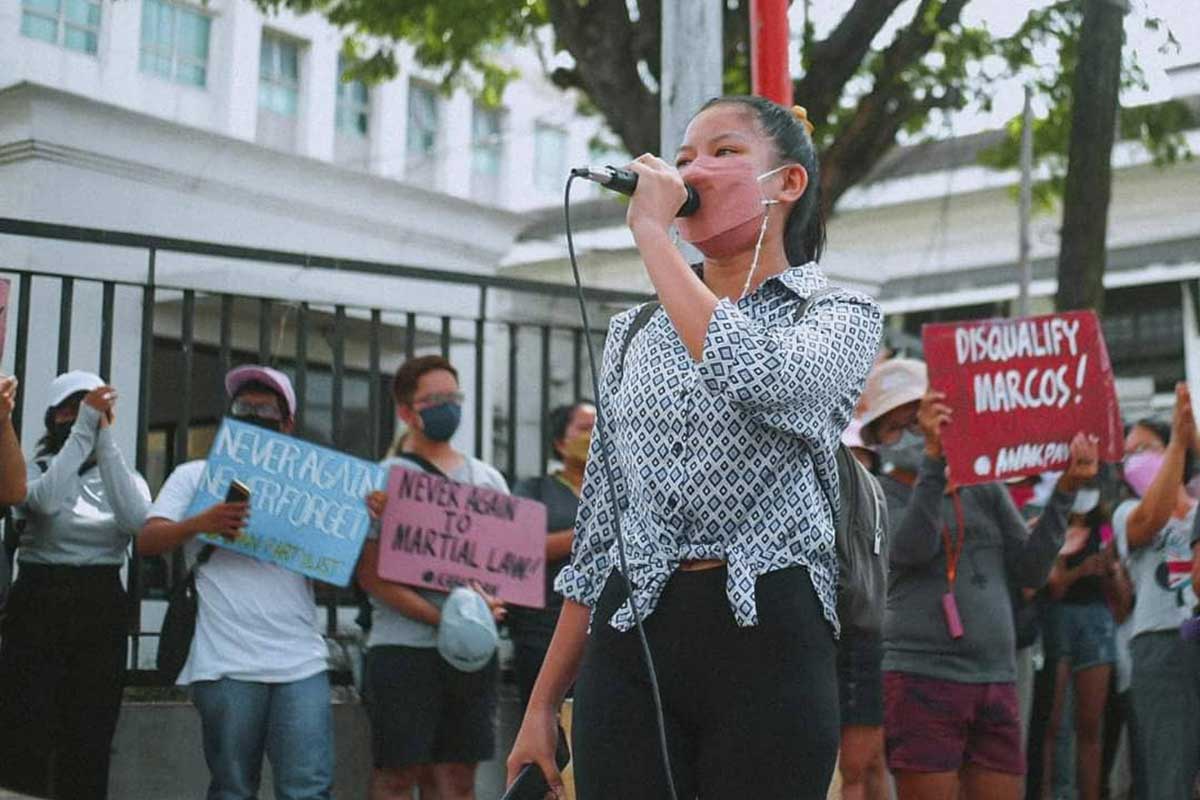 By Joseph B.A. Marzan
National Youth Commission (NYC) chairperson Ronald Gian Carlo Cardema on Monday red-tagged West Visayas State University (WVSU) Student Regent Hershey Geline Sumpay, after she denounced the university's hiring of First Lady Liza Araneta-Marcos in the university's law school faculty.
In a now-deleted Facebook post, Cardema called Sumpay a "leftist" and her statements against Mrs. Marcos as "biased".
The NYC chair also called to delegitimize Sumpay's status as student regent and University Student Council (USC) chairperson, citing the results of last year's USC election.
He also cited the late dictator Ferdinand Marcos Sr.'s Presidential Decree No. 2019 which converted the university into its present status, as well as the first lady's 30-year experience in law.
He attached photos of Sumpay's Facebook profile, which included her previous statements against the Duterte and Marcos Jr. administrations, as well as her statements of support for former Vice President and presidential candidate Leni Robredo.
"If she doesn't recognize the Presidency of Ferdinand Marcos [Jr.] who was elected by almost 60 [percent] of the Filipino People therefore based on that mindset, we can also not recognize her as the representative of the students because she was just elected by only half of the WVSU students, another half chose another student as their student leader," Cardema said in his statement.
He also announced that the NYC will be establishing volunteer corps that "can help assist the majority of students who only want to study, participate in government assistance, nation-building activities, scholarships, government internship programs, to be activated for disaster preparedness in their communities, and in the spread of a strong sense of nationalism in their schools, in their communities, and in our country.
While the statement had been deleted a few hours after it was posted, Sumpay has not made any responses, but there were some who have already vouched for her.
Her political party inside the university, the Sandigan ng Mag-aaral para sa Sambayanan (SAMASA), twitting Cardema's chairmanship of the NYC as "false representation of the youth sector."
SAMASA also backed Sumpay, saying that an attack on her is an attack on WVSU and its studentry.
"SAMASA WVSU agrees with the call to stand against the intrusion of Mrs. Liza Araneta-Marcos into the institution. It is also proper that the highest representation of the WVSU students takes a position when the welfare and future of the students they serve are on the line," their statement read.
Kabataan Party-List Rep. Raoul Danniel Manuel also expressed support for the student regent, taunting Cardema by citing his failed 2019 congressional bid.
The current NYC chairperson attempted to enter the 18th Congress by sitting under the Duterte Youth Partylist, but was disqualified by the Commission on Elections for exceeding the age requirement.
"Instead of focusing on the pressing concerns of the youth today, the NYC chair chose to malign a duly elected Ilongga student leader who represents thousands of fellow Iskolar ng Bayan. Perhaps he still cannot move on from his failed election bid as 'youth' representative," he said.
Sumpay over the weekend issued a statement against Mrs. Marcos' hiring as faculty in their College of Law for the 1st semester of the incoming school year, calling it a "blatant disrespect to the Martial Law martyrs of Iloilo".