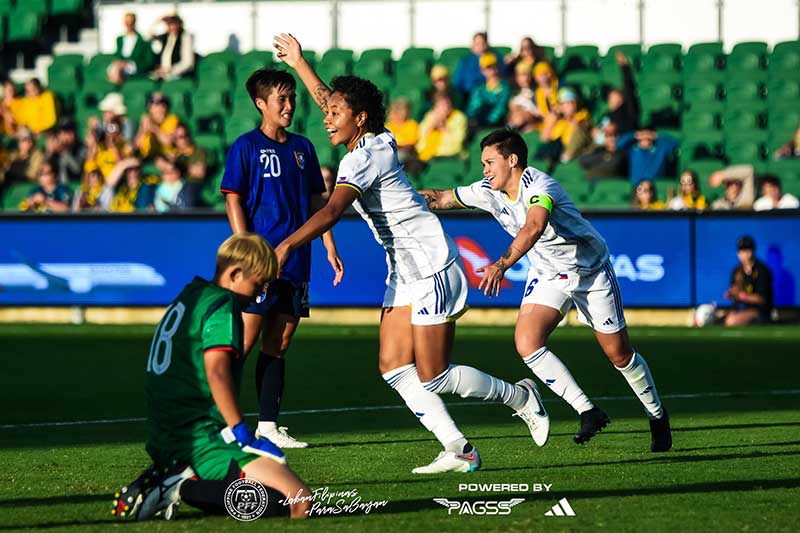 By Leobert Julian A. de la Peña
The Philippine Women's National Football Team pulled off a comeback victory over Chinese Taipei, 4-1, to kick off its 2024 AFC Women's Olympic Qualifying Tournament second round last October 26, 2023, held at the HBF Park in Australia.
Chinese Taipei was off to a rousing start after stunning the Filipinas with an early 1-0 advantage heading into the second half.
Striker Hsu Yi-yun delivered for Chinese Taipei in the 47th minute after getting past Filipinas' goalkeeper Olivia McDaniel with a thundering right-foot goal.
Despite being in an early hole, the Filipinas never laid back and ramped up their intensity with an aim to equalize the important preliminary match.
That call was then answered by Sarina Bolden seven minutes after Chinese Taipei's conversion who rifled a penalty kick that kissed the net in the right corner.
Bolden was tasked to be the replacement kicker for Meryll Serrano who was originally fouled inside the penalty area.
After Bolden's first blood, the Filipinas quickly stepped on the gas pedal and hosted a goal party in Australia.
Katrina Guillou followed Bolden's goal in the 60th minute while Bolden completed her brace in the 83rd minute.
Chandler McDaniel then put on the finishing touches in the last minute of the match and paid off the trust of the coaching staff after coming in as a late second-half substitute.
The Filipinas will look to sustain its fine form on Sunday, October 29, 2023, as they take on the world no. 11 ranked Australian national team.