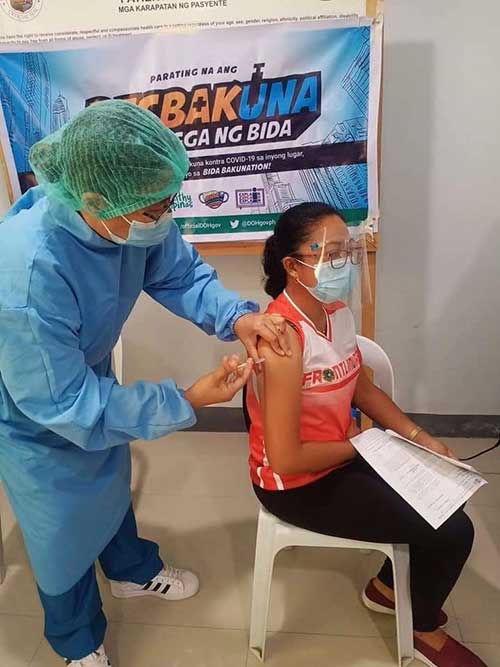 By Joseph B.A. Marzan
The Department of Health-Western Visayas Center for Health Development (DOH-WV CHD) reported that barely more than one-fourth of eligible healthcare workers in the region received their first dose of the vaccine against the coronavirus disease 2019 (COVID-19).
The DOH released their vaccination report for the region in a press conference on Monday, which indicated that as of Sunday, 26,442 healthcare workers, or 27.9 percent coverage of the 94,770 eligible healthcare workers in the region, received their first dose.
But the health department clarified that the low inoculation rate has nothing to do with hesitancy or fear of the jabs but more on the eligible population and allocated vials.
In fact, some provinces like Guimaras used up all its allocated vaccines.
The first round of COVID-19 vaccinations in the region started on March 5, 2020, a few hours after the first batches of vaccines arrived at the Iloilo International Airport and Bacolod-Silay International Airport from Manila.
Chinese biotechnology company Sinovac's CoronaVac was the first vaccine brand to be administered to eligible and willing medical frontliners, followed by British pharmaceutical company AstraZeneca's AZD1222.
Both vaccines require two doses, with the second doses set to start administering in early April.
Bacolod City registered the highest vaccinations with 4,615 or 63.40 percent of the eligible population of 7,279 (2,939 on Coronavac and 1,676 on AZD1222).
This was followed by Iloilo City with 7,178 or 56.76 percent of 12,646 (4,875 on Coronavac and 2,303 on AZD1222).
Aklan came in third with 2,463 or 29.30 percent of 8,407 (2,354 on Coronavac and 109 on AstraZeneca).
Capiz had 3,458 inoculated out of 12,043 eligible, or 28.71 percent (3,320 on Coronavac and 138 on AZD1222).
Negros Occidental vaccinated a total of 3,486 or 18.69 percent of 18,656 (2,338 on Coronavac and 1,148 on AZD1222).
Despite having the most number of eligible population at 25,645, Iloilo province is only sixth with 3,863 or 15.06 percent (1,609 on Coronavac and 2,254 on AZD1222).
Antique has inoculated 1,179 or 14.81 percent of 7,962 (887 on Coronavac and 292 on AZD1222).
Guimaras came in last with 200 or only 9.38 percent of 2,132 (100 each on both Coronavac and AZD1222).
While vaccinations were low, vaccine consumption in the region is high at 90.59 percent rate out of 29,189 doses.
Antique and Guimaras consumed the most vaccine doses at 102.52 percent and 100 percent, respectively, while Negros Occidental recorded the lowest vaccine consumption at 76.95 percent.
Aklan utilized 97.74 percent of its vaccine allocations, followed by Capiz (97.68), Iloilo City (97.55), Iloilo province (93.08), and Bacolod City (80.39).
Healthcare workers in COVID-19 referral hospitals are on top of DOH's COVID-19 vaccine prioritization framework (category "A1"), followed by healthcare workers in public and private infirmaries providing COVID-19 care.
During the press conference, DOH-WV CHD spokesperson Dr. Mary Jane Roches Juanico said around 600,000 senior citizens – both indigent and non-indigent – have been listed by the Department of Social Welfare and Development (DSWD) for the A5 group vaccination.
Juanico also said that an additional 65,000 doses were initially scheduled to be delivered to cover all eligible recipients under the A1 group, but these were re-channeled to the National Capital Region and the provinces of Bulacan, Cavite, Laguna, and Rizal or "NCR plus", due to the surge in COVID-19 cases.
Around 7,200 doses of Coronavac will be arriving today, March 30 which will be distributed to the provinces and highly-urbanized cities.
As to local chief executives in the region who were already vaccinated, Juanico only said that "concerned citizens should file a complaint with the DOH-WV CHD", and likewise clarified that local officials who are licensed medical professionals must be "actively practicing" to be qualified in the higher priority groups.
Mayor Raul Banias of Carles, Iloilo is a licensed doctor and had previously been practicing medicine before entering public service.
Juanico also reminded the public that while vaccination is still building up in the region, they must continue to follow minimum public health standards such as wearing face masks and face shields, maintaining a one-meter physical distance, and frequent handwashing.