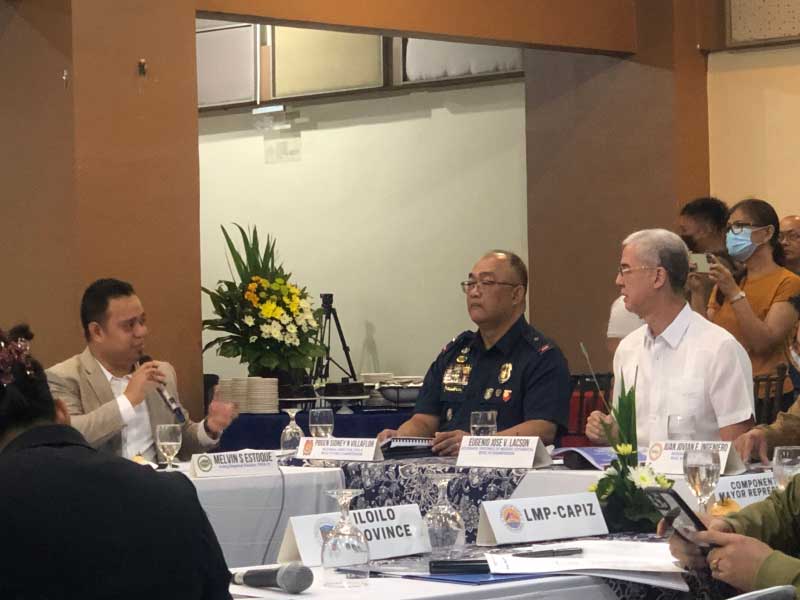 By Glazyl Y. Masculino
BACOLOD City – The Philippine Drug Enforcement Agency (PDEA) and the police seized a total of P87,227,845.13 worth of illegal drugs in Western Visayas from January 1 to May 31, 2023.
Based on the data presented by IA V Christina Cabatingan, chief operations division of PDEA-6 during the recent Regional Peace and Order Council (RPOC) meeting at Negros Residences here, 12,814.1655 grams of shabu worth P87,136,325.40 and 617.6644 grams of marijuana dried plants and 72 plants were confiscated during the said period.
A total of 896 anti-illegal drug operations were conducted by PDEA and police, that resulted in the arrest of 1,219 drug personalities.
A total of 2,188 drug cases have been filed in court.
On the clearing of barangays from illegal drugs, 3,656 out of 4,051 villages or 90.25 percent have been declared drug-cleared in the region.
Of the 3,656 villages, 2,337 were drug-cleared, while 1,319 were drug-free. A total of 395 villages have yet to be cleared.
Guimaras and Aklan are 100 percent drug-cleared, while Bacolod City has the least number of drug-cleared barangays with only 14 out of 61 villages or 22.95 percent.
Negros Occidental has 408 drug-cleared and drug-free barangays out of 601 villages, Iloilo City has 94, Iloilo province has 1,696, Capiz has 431, and Antique has 588.
Based on the current data and reports, the PDEA-6 said that there are no clandestine laboratories, and chemical warehouses dismantled or reported. Western Visayas is a consuming region and transshipment, according to PDEA-6.
Thus, it is recommended to intensify barangay drug clearing programs, especially on the rehabilitation of people who used drugs (PWUDs), and strengthen supply reduction efforts.
The PDEA-6 said that ports are also still being utilized for illicit entry of illegal drugs from sourced regions to Western Visayas.
The agency recommended strengthening the border control of seaports and airports through collaboration between law enforcement agencies and utilization of additional K9 narcotics detection units and the use of X-ray machines.
Negros Occidental Governor Eugenio Jose Lacson said that based on the drug situation reported by PDEA, it somehow tells that the entry of illegal drugs has been managed.