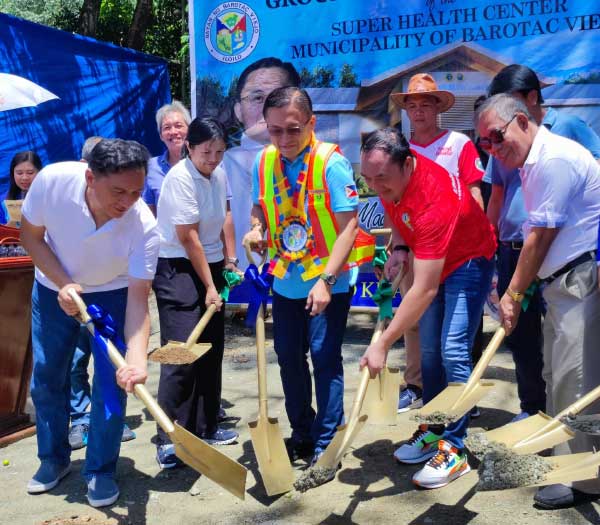 By John Noel E. Herrera
Residents of Barotac Viejo in Iloilo province will soon receive free and better healthcare services as a 'Super Health Center 'is set to be constructed in their town.
On Wednesday, June 7, 2023, Senator Bong Go, together with Iloilo 5th district Rep. Raul "Boboy" Tupas, Barotac Viejo, Mayor Nielo Tupas, Department of Health (DOH)-6 officials, and other municipal officials, led the groundbreaking ceremony of the P12 million-health facility at Barangay San Juan.
Go, who facilitated the project as chairman of the Senate Committee on Health and Demography, said that the facility would strengthen the healthcare services in grassroots areas across the country, citing that they have already secured sufficient funds for the construction of 322 Super Health Centers in 2023, including 21 in Iloilo province.
"It is a significant step towards enhanced healthcare services. 'Yun po ang layunin ng mga Super Health Centers, ang ilapit sa mamamayan ang serbisyong medikal ng gobyerno," Go said.
The senator added that the construction of the facility will help in decreasing the number of patients seeking medical assistance in the hospitals.
"Malaking tulong po ito as the facility will help decongest the hospitals dahil yung panganganak, iba pang services and primary care pwede na pong gamutin dito sa super health center," he said.
Go explained that the facility is an improved and bigger version of a rural health unit that offers different health services, including database management, outpatient, birthing, isolation, diagnostic, pharmacy and ambulatory surgical unit.
Meanwhile, Barotac Viejo Mayor Nielo C. Tupas thanked the DOH for funding the construction of the facility and Go for facilitating the project, as this would be a big help to the residents, especially those in the coastal areas.
"Dako ini nga bulig sa aton sa Barotac Viejo kay maging extension ni siya sang aton municipal health office sa banwa and at the same time ang location is really near the coastal barangays, so, instead nga magpabanwa pa sila, magtapos ini, diri na sila madiretso," Tupas said.
"Hambalon ta gid nga diri nga area (where the super health center will rise) is accident-prone gid, so, dako gid nga bagay kay bal-an ta man nga basta may aksidente, it only takes minutes or kis-a gani seconds lang para sa kabuhi sang isa ka tao," the mayor added.
Tupas also explained that P10 million will go to the construction of the DOH-funded facility, while the remaining P2 million will be used for the procurement of medical equipment needed for the center.
Iloilo Provincial Health Office (IPHO) chief Dr. Maria Socorro Colmenares-Quiñon, on the other hand, noted that the provincial government is ready to assist in the operation of the center, as long as it is "performing well."
"May ara kita gina-hatag nga equipment sa mga health centers as long as they are performing well. We have one ready kay kung maging primary care facility sila, we will provide them with an ultrasound machine," Quiñon said.
"Also, Konsulta-accredited facility na sila, may ara na sila ECG machine from the Provincial Health Office (PHO), and more to come basta maga-perform lang sila (municipal health unit) well, and they are indeed performing well," the PHO chief added.