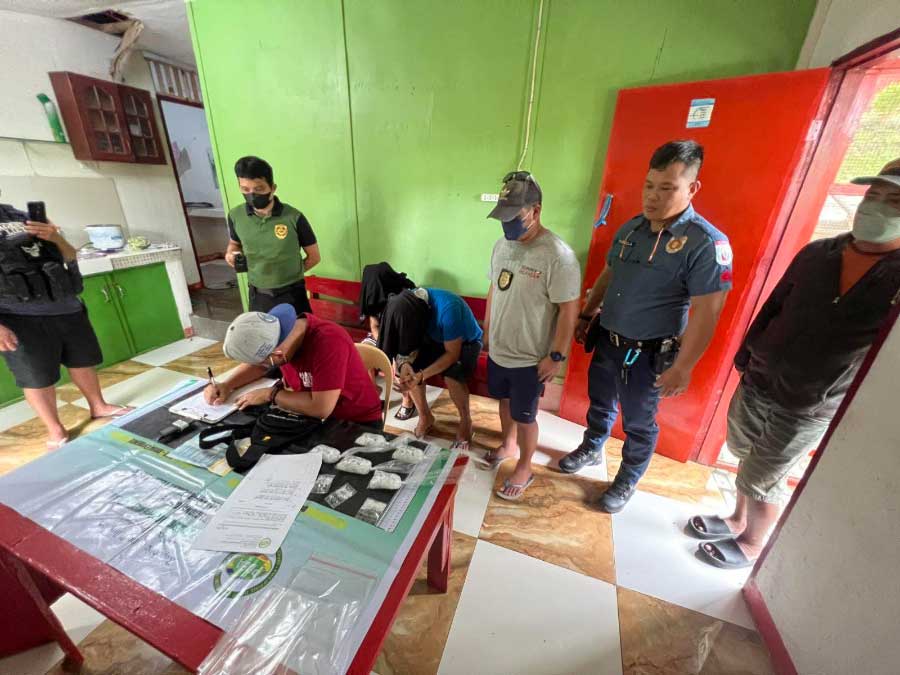 By Jennifer P. Rendon
A couple is behind bars anew following their arrest in an anti-narcotics operation morning of July 29 in Sta, Barbara, Iloilo.
Salvador Ruiz, 33, of Barangay San Isidro, Jaro, Iloilo City and Vanessa Buison, 36, of Barangay Rizal Pala-Pala, City Proper, Iloilo City, were arrested at their rented place in Taft Street, Barangay Zone 4, Sta. Barbara.
Operatives of the Philippine Drug Enforcement Agency (PDEA)-Regional Special Enforcement Team, together with members of the Sta. Barbara Municipal Police Station led the operation.
Ruiz and Buison were collared for allegedly selling a sachet of suspected shabu worth P14,500.
Following their arrest, the team seized from the couple three sachets and five knot-tied plastics of suspected shabu, a black bag, and a mobile phone.
Atty Bomrad Soc Abonado, PDEA-6 regional director, said the seized drugs weighed around 515 grams and valued at P3,502,000.
Abonado said the couple identified themselves as live-in partners when they rented the place more than a month ago.
At around the same time, PDEA received reports of their alleged involvement in the illegal drugs trade.
"They are bodegeros. They supply drugs to street peddlers," Abonado said.
But he said they are still trying to ascertain who the suspects are working for.
Ruiz had been jailed at the New Bilibid Prison for a homicide case. He was released from incarceration in May 2022.
Buison, on the other hand, had been arrested for violation of Republic Act 9165 or the Comprehensive Dangerous Drugs Act of 2002.
She was imprisoned at the Correctional Institution for Women but was released in February 2023.
Abonado said they're checking if she was released through plea bargaining agreement.
The two suspects are now detained and will be charged for violation of RA 9165.