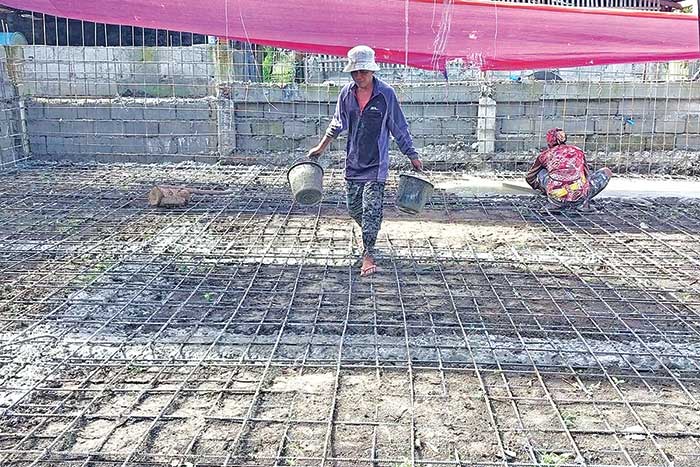 By Rjay Zuriaga Castor and Mariela Angella Oladive
Minimum wage earners in the Western Visayas will receive a P30 increase in their daily take-home pay starting today, November 16, but some workers find it inadequate.
Jenny, a media practitioner from a local radio station, believes that the increase falls short of meeting daily needs, especially considering the escalating prices of goods and services
"P30 is not enough, to suffice ang daily needs especially now nga gataas ang balaklon, nagpataas lang sila for the sake na kuno abi my actions taken man," she stressed.
Another minimum wage earner in a service provider company echoed the same sentiment, emphasizing that the increase is merely a nominal amount.
"Indi sya enough, with the way things are right now, considering the inflation, dapat mas taas ang idugang. Imagine 900 lang a month ang dugang, daw sinsilyo lang na," she said.
Irish, a private restaurant manager, concurred with the others, asserting that the P30 raise is insufficient to sustain daily needs, particularly for employees with families.
"Ang P30 is not good enough gid. Kon ibase mo lang sa mga balaklon kag pamasahe subong. Indi gid na sya enough to sustain their daily needs pareho na kon may pamilya ang earner, mabakal pa sya gatas and damo pa," she explained.
Irish stressed that for the government to truly assist workers, it should lower the prices of goods.
"Kung gusto gid makabulig sang gobyerno sa mga minimum wage earner ang mga presyo sang balaklon dapat gid nila iimprove or i-control," she added.
The Regional Tripartite Wages and Productivity Board VI issued the new wage order on October 16.
With the full implementation of the salary hike, non-agriculture establishments with more than 10 workers will have a daily take-home pay of P480, for non-agricultural businesses with 10 workers or fewer will increase to P450, and P440 for workers in agriculture.
The wage board also approved an increase of P500 in the monthly salary of domestic helpers in the region. This will raise their monthly wage rate to P5,000.
The Department of Labor and Employment has called on all employers to comply with the new wage order.
'TOO LITTLE, TOO LATE'
The Iloilo chapter of Partido Manggagawa (PM) criticized the P30 hike in minimum wages for Western Visayas as "too little, too late." Mario Andon, PM-Iloilo spokesperson said that the wage increase failed to meet the demand for a P100 wage recovery.
"Sa kabila ng increase, ang tunay na halaga (real wage) ng minimum wage ngayon ay P383 lamang batay sa 2018 na base year ng inflation. Ibig sabihin, may utang pang P97 ang mga kapitalista at ang gobyerno sa mga manggagawa para mabawi ang nawalang halaga ng sahod," said Andon. The P97 loss in purchasing power is the difference in the nominal wage of P480 and the real wage of P383.
The increase sets the new minimum wage in the region to P480 for non-agricultural firms with more than 10 workers, P450 for establishments with 10 workers or less, and P440 for agricultural workers.
"Kulang ang umentong ito ito para sa isang kilong bigas sa isang araw. Hindi rin ito makababawi ng nawala na at patuloy pang nawawalang halaga ng sahod ng manggagawa sa rehiyon," stated Andon.
He also criticized the numerous wage classifications in the region that make enforcement and compliance very complicated, notwithstanding the blanket exemption available for firms employing not more than 10.
"Para na ring bigas na may regular, well-milled, at premium na klasipikasyon ang sistema ng pasweldo sa bansa dahil kahit nasa iisang kalagayan lamang sa buhay ang mga manggagawa sa isang rehiyon ay magkakaiba ang halaga ng kanilang sweldo," lamented Andon.
PM argued that the wage hike in Western Visayas and other regions mirror the structural defects of the prevailing wage system in the country under RA 6727 where the financial health of employers is given more importance than the workers' capacity to live and their right to a rising standard of living.
"Kung mayroon mang hindi makatwiran at mapang-abusong price control na ipinatutupad sa bansa noon pa man, hindi ito ang P41-P45 per kilo na ipinapataw ngayon sa presyo ng bigas kundi sa presyo at tamang pasweldo sa mga manggagawa," bewailed Andon, pointing to how the economic managers justifies the price caps on rice today but objecting to wage hikes because it would do more harm on the economy.
Andon asserts that there is a need to shift to battle for a legislated wage hike and reforms in the wage-setting mechanisms in the country. Pending before Congress are the P150-P750 wage hike bills. Senators, including Senate President Juan Miguel Zubiri, vowed to pass the measure while the House of Representatives has yet to conduct hearings on the pending wage hike bills.