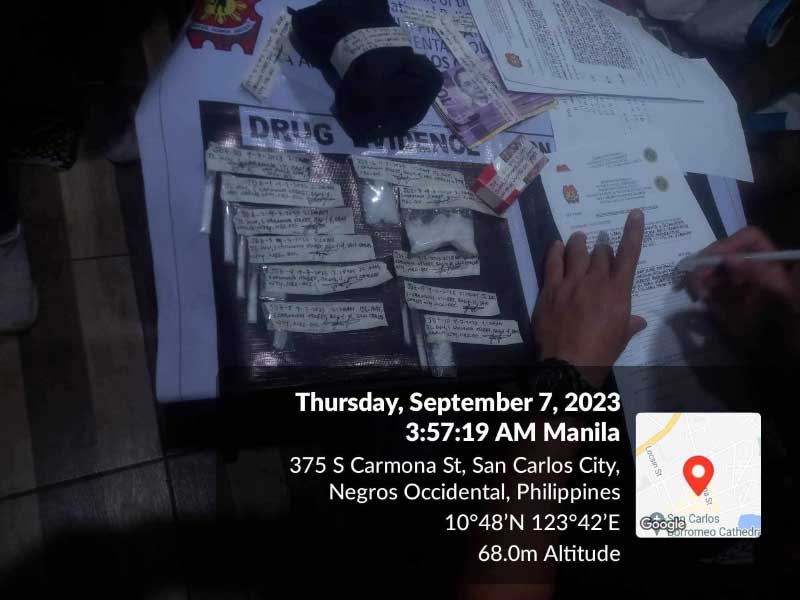 By Glazyl Y. Masculino
BACOLOD City – An estimated P330,080 worth of suspected shabu was seized in various police operations against illegal drugs in Negros Occidental on September 6 and 7.
The bulk of the drug recovery was in San Carlos City after police confiscated 26 grams of suspected shabu worth P177,480 in a buy-bust operation in Barangay 4 yesterday.
Police identified the suspects as Carlito Layagon, 45, of Barangay 3, and Libra Dawn Villarante, 35, of Barangay Guadalupe. Both are street level individuals according to the police.
Major Ryan Villasario, deputy chief of San Carlos City Police Station, said that Layagon was previously jailed for the same offense but was released through plea bargaining.
Villasario said the two were subjected to an operation after they learned that Layagon allegedly returned to engaging in the illegal drug trade, in partnership with Villarante. Police conducted a few weeks of monitoring on them, he added.
Also recovered by police from them was the P1,000 marked money.
In Sagay City, 57-year-old Ranulfo Sayson, of Barangay Poblacion 1, was arrested in Barangay Poblacion 2, after he allegedly yielded 15 grams of suspected shabu worth P102,000 in a drug bust last Wednesday.
He is a street level individual, based on a police report.
Meanwhile, four other persons were also apprehended in the town of Isabela and the cities of Kabankalan and Silay for the confiscation of P50,600 worth of suspected shabu last Wednesday.