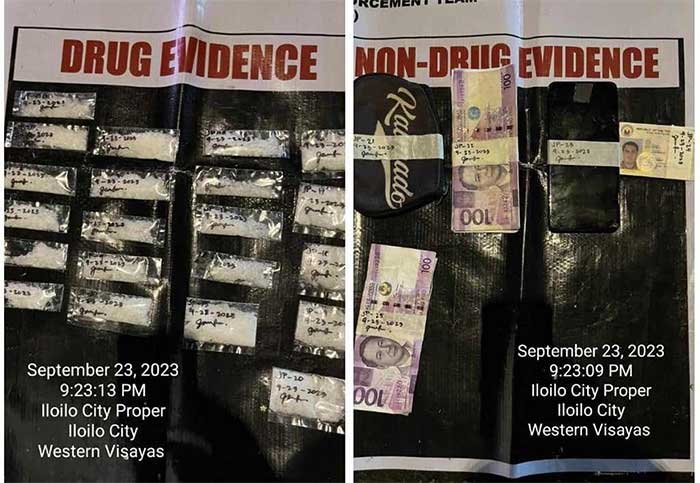 By Jennifer P. Rendon
More than P6 million worth of illegal drugs were seized in three separation police anti-narcotics operations in Iloilo City in a span of four hours.
The series of anti-illegal drug operations, which started around 9:10 p.m. on September 23, led to the arrest of five persons.
Police identified the suspects as Joemarie Perez; live-in partners Rhodney Marcellana Jr. and Kristine Eiman; April Joy Bataloya; and Melbert dela Cruz.
Members of the Iloilo City Police Office-City Drug Enforcement Unit (ICPO-CDEU), the Regional Police Drug Enforcement Unit, and the different ICPO stations worked together for the arrest of the five persons who were deemed to be linked with each other.
Captain Roque Gimeno III, ICPO team leader, said the suspects apparently transacted with a certain Rene Boy who is presently incarcerated at the New Bilibid Prison in Muntinlupa City.
"They have a direct contact with Rene Boy even if he's behind bars. Rene Boy was the one who called the financier, who will then send the supply to the suspects," Gimeno said.
Perez, a resident of Barangay Sinikway, La Paz district, was the first to be arrested in a buy-bust operation at Muelle Loney Street, Barangay Legaspi, City Proper.
He was collared after selling a sachet of suspected shabu for P12,000.
When frisked, Perez yielded 20 more sachets of suspected shabu, a mobile phone, a pouch, P300 cash, and an identification card.
The seized drugs weighed around 70 grams with a standard drug price of P476,000.
Police scored the biggest confiscation from live-in couple Marcellana and Eiman who were arrested around 12:15 a.m. on September 24 at Barangay Magsaysay, La Paz.
Marcellana, 34, a resident of Barangay San Juan, Molo and Eiman, 35, of Barangay Cabungahan, Maayon, Capiz, sold a sachet of suspected shabu for P18,000.
Following their arrest, police recovered nine sachets of suspected shabu, a sling bag, a mobile phone, a motorcycle and cash of P2,000.
Gimeno said the seized drugs weighed around half a kilo and valued at P3.4 million.
More than an hour later, police arrested Bataloya, Rene Boy's niece, and her alleged runner dela Cruz at Barangay Sto Niño Norte, Arevalo district.
The two suspects sold a sachet of suspected shabu for P16,000.
They later yielded 18 sachets and three knot-tied plastics of suspected shabu, a sling bag, a coin purse, two mobile phones, an empty plastic sachet, two paper pouches and cash of P1,750.
The seized drugs weighed around 370 grams and were valued at P2,516,000.
Gimeno said Marcellana served as the "bagsakan" or keeper of illegal drugs from Rene Boy.
Marcellana knew Rene Boy since he was incarcerated for murder and spent prison time with the latter. He was released from jail after serving his sentence.
Of the five arrested suspects, only Perez had a previous drug arrest. He was released from incarceration after availing of the plea bargaining agreement.
Brigadier General Sidney Villaflor, Western Visayas police chief, said that the series of arrests in Iloilo City is a result of high-impact, intelligence-driven police operations by the different police units.
He cited that the supply came from Manila and was monitored to have been distributed to the arrested drug personalities in Iloilo City.
"The three operations are inter-linked and was totally intercepted by our operatives prior distribution to sub-dealers. Isa po ito sa pinaka malaki ng anti-illegal drug operation na naitala sa isang araw lang. Napakalaking kawalan po ito sa supply chain nila," he said.