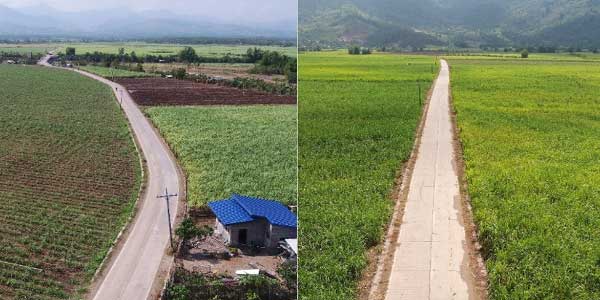 Improved and better rural road infrastructures were delivered by the Department of Public Works and Highways (DPWH), enabling connectivity and safe mobility to remote areas in southern Negros Occidental.
DPWH, Negros Occidental 2nd District Engineering Office has completed the concrete paving of two local road sections in barangays of Camangcamang and Mansablay, both in Isabela town.
Based on the report of District Engineer Marivic M. Roldan, OIC-Regional Director Sanny Boy O. Oropel said the paved road eases travel and transport of goods from farms to the market, and vice versa.
"A good road network provides a boost to the agricultural activities in these rural areas by making water, seeds and other raw materials needed for farming reach the farmer in time," OIC-RD Oropel said.
"These paved roads will also offer cost-efficient transport of products from farms to the market, ensuring shorter travel time and the time saved this way can help the rural poor to be more productive and generate other sources of income. The time saved can be used for doing other jobs as well where farmers can earn some extra income," RD Oropel added.
RD Oropel added that the improvement of these local roads will increase the asset value of the people in rural areas, facilitating local trade and business opportunities that could help them achieve economic stability.
Meantime, DE Roldan said the improved roads facilitate access to health, education and economic opportunities, especially for the people in the remote barangays.
"With these better roads, basic social, health, education, and other govern services can be easily delivered to the people in the localities, especially in far-flung areas, thus no one will be left behind," DE Roldan said.
"These improved roads also enhance access to education services. Students from remote areas will have better travel access to the nearest educational facilities and get better and higher education which can open better employment opportunities for them," DE Roldan added.
The project in Barangay Camangcamang includes the construction of an 852-lineal meter 2-lane concrete road from Spillway to Bridge and the reconstruction of a 426-lineal meter concrete shoulders on both sides in the amount of ₱6.8 million.
Barangay Mansablay on the other hand, includes the construction of a 1.24-lane kilometer, 2-lane concrete road in Sitio Osvalfina in the amount of ₱8.8 million. It also includes the reconstruction of 571-lineal meter shoulders on both sides and slope protection structures in selected areas. (DPWH)