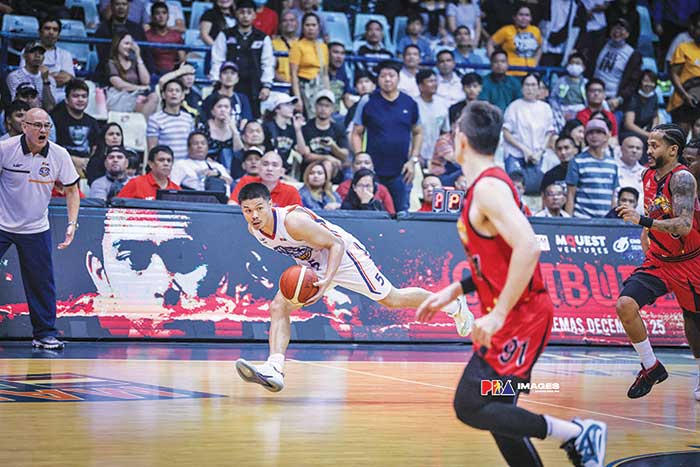 By Leobert Julian A. de la Peña
Kris Rosales showed ice in his veins after putting up a clutch shooting clinic to help the NLEX Road Warriors topple the San Miguel Beermen in overtime, 116-113, in the ongoing PBA Commissioner's Cup last November 15, 2023.
Down by seven points with only two minutes remaining in the game, Rosales caught fire in the most perfect time after taking over, dropping three crucial three-pointers that helped NLEX extend the intense action to an overtime period.
Rosales kicked off his heroics after draining a trifecta from the right corner to trim NLEX's deficit to just four points, 99-103.
After the Road Warriors earned a much-needed defensive stop, Rosales didn't hesitate to pull the trigger and connected on a stop-and-pop trey to get within a point, 102-103.
The retuning Terrence Romeo looked to spoil Rosales' fiery performance after making a clutch shot on the other end to give the Beermen an extra three-point cushion, 102-105.
Just when the Beermen thought Rosales cooled down, the Road Warriors ran the play for him and immediately paid off the trust of the coaching staff when he drilled an off-the-curl three that equalized the ball game at 105-all.
The Beermen had a chance to win the game after taking the final offensive possession but Romeo's leftie layup hit the sideboard.
Both squads exchanged baskets after the start of the extra period but the Road Warriors gained the separation after Anthony Semerad was fouled by Rodney Brondial when he raised for a trey.
Semerad missed one shot but that sequence led to a San Miguel drought in the last 1:19 of action, failing to put up a single point until the final buzzer sounded.
Rosales finished his career-defining game with 19 points and scored 15 alone in the final frame. Former NBA top draft Thomas Robinson led NLEX in scoring with 42 markers while Kevin Alas delivered 18 points.
On the other hand, CJ Perez unleashed 25 points for the Beermen but their import Ivan Aska only tallied 21 points and nine rebounds.