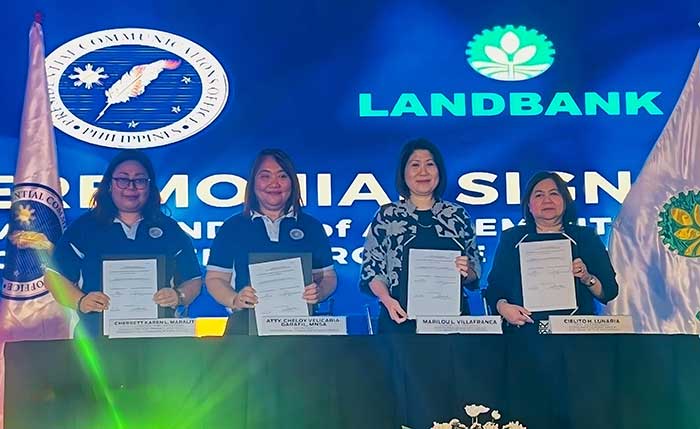 Towards advancing efficient, transparent, and swift government procurement, the Presidential Communications Office (PCO) has partnered with the Land Bank of the Philippines (LANDBANK) for the use of the Government Purchase Card (GPC) to pay for official goods and services.
The GPC is similar to a credit card in function, designed to shorten and simplify the requisition process for government agencies and offices, as well as streamline the disbursement of payments to suppliers.
PCO Secretary Atty. Cheloy Velicaria-Garafil, MNSA, and LANDBANK Senior Vice President Marilou L. Villafranca led the signing of the Memorandum of Agreement (MOA) on 11 October 2023 at the Palacio de Maynila in Malate, Manila. They were joined by PCO Undersecretary Cherbett Karen L. Maralit and LANDBANK First Vice President Cielito H. Lunaria.
"Our overarching goal for the GPC Program is to expedite the delivery of meaningful and responsive public service, helping government agencies like the PCO to eliminate procurement lead time, facilitate digital and quicker payments, and lower administrative costs for purchases," said LANDBANK President and CEO Lynette V. Ortiz.
Under the Agreement, LANDBANK will issue Government Purchase Cards to authorized PCO personnel for the payment of eligible goods and services, such as miscellaneous small-value purchases; travel and representation; hotel and lodging; computer software, services, and digital content; and fuel, automotive parts, and services, among others.
The GPC features pre-defined expenditure and credit limit; e-mail alerts for all GPC transactions; availability for online and cashless transactions via Point-of-Sale (POS); and monthly electronic statement of accounts.
"This partnership is a step towards embracing digitalization to better serve the Filipino people. We thank LANDBANK for supporting the PCO in our digitalization journey," said PCO Sec. Atty. Cheloy Velicaria-Garafil, MNSA.
The PCO joins other government offices that are currently using the GPC, including the Office of the Vice President (OVP), Department of Finance (DOF), Department of Trade and Industry (DTI), Department of Budget and Management (DBM) and Bureau of the Treasury (BTr), among others.
As of end-September 2023, LANDBANK has facilitated through the GPC combined transactions amounting to P19.7 million for various purchases and payments.