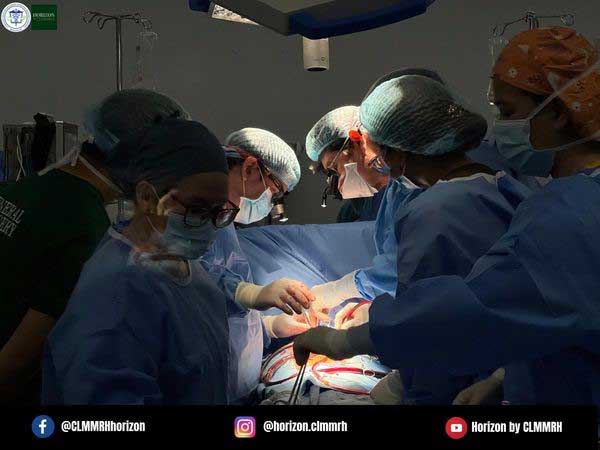 By Easter Anne Doza
The Philippine Heart Center (PHC) and the Corazon Locsin Montelibano Memorial Medical Center (CLMMRH) conducted a breakthrough project for the First Cardiovascular Surgical Mission at the CLMMRH from May 29 to June 2, 2023.
A total of 13 patients will be beneficiaries of the project which include 10 pediatric and four adults from Bacolod City and Negros Occidental.
This First Cardiovascular Surgical Mission is a milestone in Phase 2 of the three-phase initiative of CLMMRH to establish the Basic Comprehensive Center for Cardiovascular Care pursuant to the Philippine Health Facility Development Plan (PHFDP) 2020-2040 and the Health Sector Strategy 2023-2028 under the Project Pagla-um.
The project will give patients access to the best possible care with the resources provided by the PHC which is not available on the Island, and, CLMMRH will be able to gradually develop its capacity as a Basic Comprehensive Center for Cardiovascular Care.
PHC Medical Director Dr. Joel Abanilla and CLMMRH Medical Center Chief Dr. Julius Drilon signed the Memorandum of Agreement during the opening ceremonies at the start of the surgical mission at CLMMRH which formalizes the partnership between CLMMRH and PHC in a 4-step pathway towards a fully developed regional center.
"One of the two causes of mortality in the Philippines is due to cardiovascular disease," Abanilla emphasized.
Abanilla shared the difficulties of patients from the provinces who sought help at PHC which led to his point of capacitating the regional hospitals to decentralize cardiovascular surgeries and interventions from PHC to the provinces.
The primary objective of the agreement is the preparation and training of CLMMRH and its staff as a Regional Heart Center.
Phase 1 started in 2021 with closed heart surgeries including repair of abdominal aortic aneurysm, pacemaker insertion and PDA surgeries. (PIA)