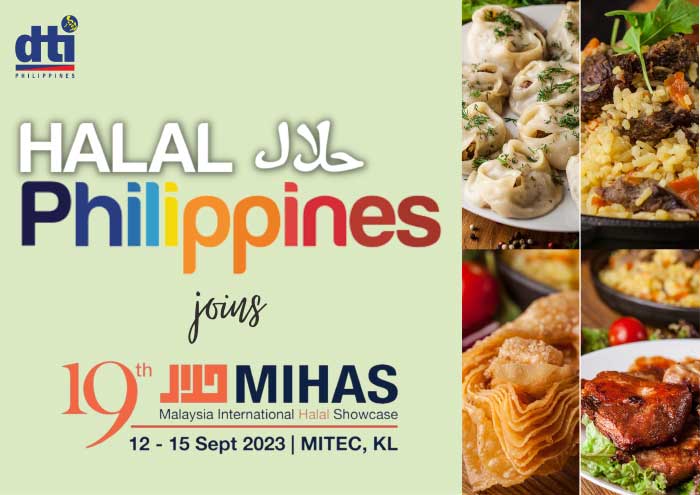 The Philippines is all set for a comeback participation to the Malaysia International Halal Showcase (MIHAS)-Halal industry's number one business platform on 12-15 September in Kuala Lumpur, Malaysia.
The mission primarily aims to expand the reach of Philippine exporters to Malaysia and other participating countries in MIHAS through business-to-business meetings and by showcasing high-value Halal certified food and non-food products.
The participation is spearheaded by the Department of Trade and Industry (DTI) through its Export Marketing Bureau (EMB) and the Philippine Trade and Investment Center (PTIC) in Kuala Lumpur.
According to DTI-EMB Director Bianca Sykimte, "this mission is an important step towards increasing the global mindshare of Halal Philippine products through trade promotion, consistent with the Philippine Export Development Plan (PEDP) 2023-2028 and the Philippine Halal Export Development and Promotion Program."
PTIC Kuala Lumpur Commercial Counsellor Norjamin Delos Reyes expressed her optimism about the Philippines' participation in MIHAS 2023, stating, "This is an excellent opportunity for Philippine businesses to showcase their high-quality, halal-certified products to a global audience. We believe that MIHAS will provide a platform for Philippine exporters to strengthen their presence in the halal market and forge lasting business partnerships.
After missing MIHAS for three (3) years due to the pandemic, the Philippines is back with sixteen (16) exporters participating in the Philippine Pavilion, these are Pasciolco Agri-Ventures, Cocoplus Aquarian Development Corporation, Tongsan Industrial Development Corporation, Fruits of Life, Inc., Fenor Foods International Corporation, Chemrez Technologies, Inc., AMFirst Corporation, Wellnesscare International Corporation, Lorenzana Food Corporation, Castillejos Fruit Jams Products Fruit Preserving, Sabroso Chocolate Manufacturing, Blue Macay Food Manufacturing Corporation, Dermaline, Inc., Cosmetique Asia Corporation, C and H Cosmetics Industry and Greenstone Pharmaceutical, Inc.
MIHAS is an annual event hosted by the Malaysia Ministry of Investment, Trade and Industry (MITI), organized by the Malaysia External Trade Development Corporation (MATRADE) in association with the Department of Islamic Development (JAKIM) and the Halal Development Corporation Barhad (HDC).
To know more about DTI's initiatives on Halal certified products, services and processes you may reach the Export Marketing Bureau at exports@dti.gov.ph or telephone numbers +63 2 8465-3300.