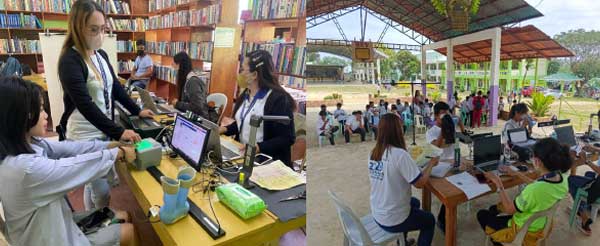 The PhilSys Mobile team of Philippine Statistics Authority (PSA)- Guimaras Provincial Statistical Office registered an additional 1,929 Guimarasnons in the first quarter (Q1) of 2023 PhilSys Step 2 registration, accounting for 6.67 percent of the 28,900 total target registrants in the first semester of the year.
"Of the 1,929 registrants in Q1 2023, there were 610 registrants from Jordan Municipality, 470 from Buenavista, 461 from San Lorenzo, 323 from Nueva Valencia, and 65 from Sibunag," Provincial Statistics Officer Nelida B. Losare said.
"The said registrants were a mixed of 1,756 walk-ins and 173 Assisted Step 1 Registration," Losare said.
Losare added that the PhilSys Step 2 team conducted a saturation mobile registration in thirty-one (31) schools in the province – a mix of public and private schools.
"We visited twelve (12) schools in Buenavista, eight (8) in Nueva Valencia, five (5) each in Jordan and San Lorenzo, and three (3) schools in Sibunag. The continuation of mobile registration for Schools in S.Y 2023-2024, which targeted students aged 5 to 14, helped the Philsys Guimaras team to register more unregistered individuals in 2023. This registration per school would not be possible without the help of the Department of Education (DepEd)-Guimaras," Losare said.
"We are glad that this strategy or saturation moved of PhilSys Guimaras is helpful to reach all unregistered individuals and be included in the government central identification platform for all Filipino citizens and resident aliens of the Philippines."
Meanwhile, Losare appreciated the efforts of PhilSys Guimaras in finding ways to reach the target number of registrants before the 1st semester ends.