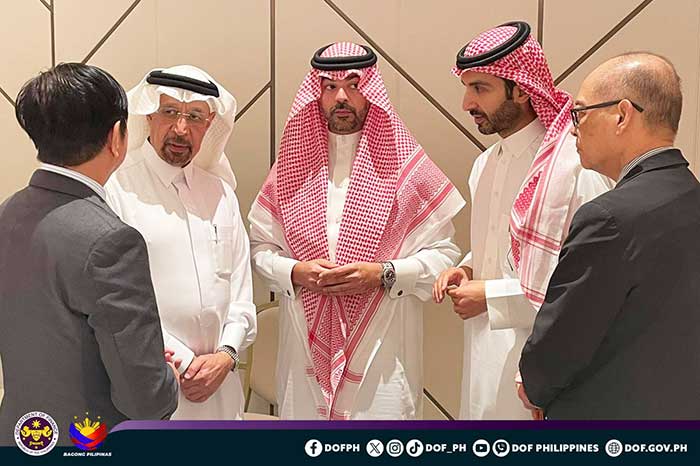 Finance Secretary Benjamin E. Diokno has made a strong pitch for investment opportunities in the Philippines' Maharlika Investment Fund (MIF) and Islamic finance before top Saudi business leaders during a roundtable meeting on October 19, 2023 at the St. Regis Hotel in Riyadh, Saudi Arabia.
"Right at the beginning of President Ferdinand Marcos, Jr.'s administration, the Philippine government set its sights on establishing institutions for long-term investments with a singular vision – a better quality of life for generations of Filipinos to come," he said.
The MIF is in line with the Marcos, Jr. administration's 8-Point Socioeconomic Agenda for poverty reduction and Philippine Development Plan (PDP) 2023 to 2028 for deep economic and social transformation.
The Fund was designed to catalyze economic development and accelerate the country's growth by optimizing the use of government financial assets and promoting their intergenerational management.
"To achieve this, Maharlika aims to attract capital from both domestic and global equity investors, including large funds here in the Middle East seeking to diversify its portfolio in fast-growing emerging markets like the Philippines," Secretary Diokno said.
Investments in the Fund will be used to fasttrack the implementation of the Philippines' some 197 high-impact infrastructure flagship projects (IFPs) worth around US$ 153 billion.
"The Fund also presents exciting opportunities for green and blue investments, ESG-linked fixed-income instruments, and cutting-edge technologies with the advent of artificial intelligence and cloud computing," Secretary Diokno shared.
The Finance Secretary also expressed optimism on working with other sovereign wealth funds to partner with and learn best practices from.
Governing the Fund is the Maharlika Investment Corporation (MIC) which has an authorized capital stock of around US$ 8.9 billion––US$ 6.6 billion are common shares for subscription of the National Government and its instrumentalities, while the remaining US$ 2.2 billion are preferred shares open for subscription of the National Government, as well as reputable private financial institutions and corporations.
Private and state-owned financial institutions can make direct investments in the MIF's sub-funds which offer specific investment strategies.
Secretary Diokno assured investors of the Fund's safeguards which were founded on the Santiago Principles that promote transparency, good governance, accountability, and prudent investment practices.
Other mandatory safeguards include an internal and external auditor, a Joint Congressional Oversight Committee, and the examination of the Commission on Audit (COA).
"We look forward to your partnership and investment as we proceed with the full operationalization of the Fund by the end of 2023," he said.
Apart from the MIF, Secretary Diokno also urged investors to tap into the diverse investment opportunities in the Philippines' Islamic finance sector, saying it would drive economic growth and prosperity for all Filipinos.
According to Secretary Diokno, the Bangko Sentral ng Pilipinas (BSP) has adopted a single regulatory framework for both Islamic and conventional banks, enabling them to thrive on a level playing field.
"This is evident in its regulations on licensing of Islamic banks and banking units, liberalized modes of entry for foreign banks, and relaxation of minimum capitalization requirements for Islamic banking units. Prudential incentives are also offered to encourage the entry of new players," he said.
The Bureau of Internal Revenue (BIR) and Insurance Commission (IC) have also made efforts to support the development of Islamic finance by issuing policies on tax neutrality and takaful (Islamic insurance).
There are 217 unbanked cities and municipalities located in Mindanao as of March 31, 2023. This presents an opportunity for investors to tap into the Muslim market while closing the financial inclusion gap.
Islamic banking in the country operates under the guidance of the Shari'ah Supervisory Board (SSB) which issues Shari'ah opinions on Islamic banking transactions and Shari'ah products, as well as financial institutions and other stakeholders as requested by the BSP.
The Roundtable event was organized by the Ministry of Investment of Saudi Arabia and the Philippine Department of Trade and Industry (DTI). It was the first in the series of activities to be attended by the President at the Association of Southeast Asian Nations (ASEAN) – Gulf Cooperation Council (GCC) Summit from October 19 to 21, 2023.
The ASEAN-GCC Summit is aimed at advancing mutual interest in areas such as energy security, food stability, and economic cooperation, among others.
Saudi Arabia, Oman, Qatar, Bahrain, Kuwait, and the United Arab Emirates (UAE) are GCC nations that have established ties since 1990.