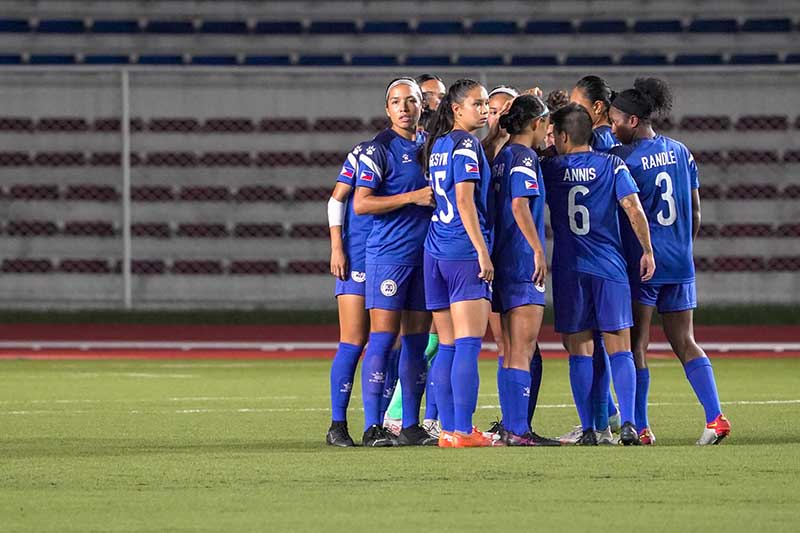 By Leobert Julian A. de la Peña
The Philippine Women's National Football Team banked on a huge second-half turnaround to outduel Indonesia, 4-1, and claim their semifinal seat in the ongoing 2022 AFF Women's Championship.
It was an early scare for the Filipina booters after a shocking first-blood goal from Indonesia that sucked the life out of the Rizal Memorial Stadium in the first half of action.
An uncharacteristic error from the PHL side caused the unfortunate series of events when a reset play off a clearance pass from Chantelle Maniti to goalkeeper Inna Palacios was read well by Indonesia.
Alert in rushing to Palacios, Indonesia's Carlo Bio Pattinasarany's relentless chase resulted in a goal after tapping the ball inside PHL's penalty area with eight minutes left in the first half.
However, the Filipinas were unfazed despite surrendering their first opponent goal in all their matches and kept their focus for the next 45 minutes.
The PHL squad only needed one minute after the second-half whistle to equalize things courtesy of team captain Tahnai Annis' conversion.
After Annis' first goal, the Filipina booters smelled blood and continued to pour in the attack against the Indonesians who just lost their momentum in the match.
Answering the call in closing out the must-win duel was veteran striker Sarina Bolden who capped off their comeback win with a stellar hat-trick performance.
Bolden scored all PHL's remaining goals in the 57th, 63rd, and the 66th minutes of the match, exposing the loose Indonesian backline defense that collapsed every time Sara Eggesvik and Katrina Guillou orchestrated the Filipinas' attack in the midfield.
Before the semifinals, the PHL squad will still have one elimination game against Thailand today, at 7 PM, and will still be held at the Rizal Memorial Stadium.