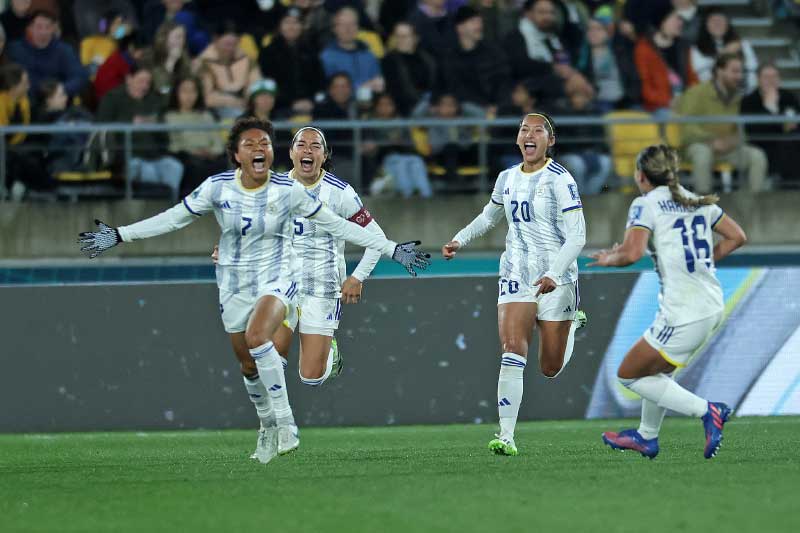 By Leobert Julian A. de la Peña 
History has been made!
After eight years of dreaming of a seat in the prestigious FIFA World Cup, the Philippine Women's national football team not only qualified for the first time this edition but also bagged their first-ever win after stunning host nation New Zealand, 1-0, last July 25, 2023, held at the Wellington Regional Stadium.
National team superstar forward Sarina Bolden proved to be New Zealand's kryptonite after cashing in the lone game-winning goal of the match in the 24th minute of the first half.
After a perfectly placed cross pass by Sara Eggesvik from the right side of the pitch, Bolden was in the right position and fired a direct header that gave the PHL a 1-0 lead entering the second half.
With the historic victory, the Filipina booters just improved to third place in Group A after receiving three points off a win.
It was a high-octane tempo for both squads as New Zealand quickly established momentum when they got tons of possessions to draw first blood.
Team PHL responded with a huge defensive hold as their quick reactions every time New Zealand ran their sets led to several deflections that disrupted the latter's fluid attack.
However, the PHL shocked the whole Wellington Stadium after the Bolden sequence at the 20th-minute mark of the match.
After the Bolden conversion, New Zealand continued its hounding pressure and attacked every opportunity they got.
A near excitement then filled the host nation after an initial goal was scored with only 20 minutes remaining in the game, equalizing the match at 1-all.
That moment will then be spoiled after 20 seconds as the match officials ruled it as an offside, saving a point for the PHL while still leading by 1-0.
New Zealand desperately needed a goal to tie the match up. Despite numerous attempts to find the back of the net, the host nation still couldn't put the ball in PHL's post and could only watch the first-timers cement their name in the history books of the FIFA World Cup.
Mabuhay kayo, mga atletang Pilipina!