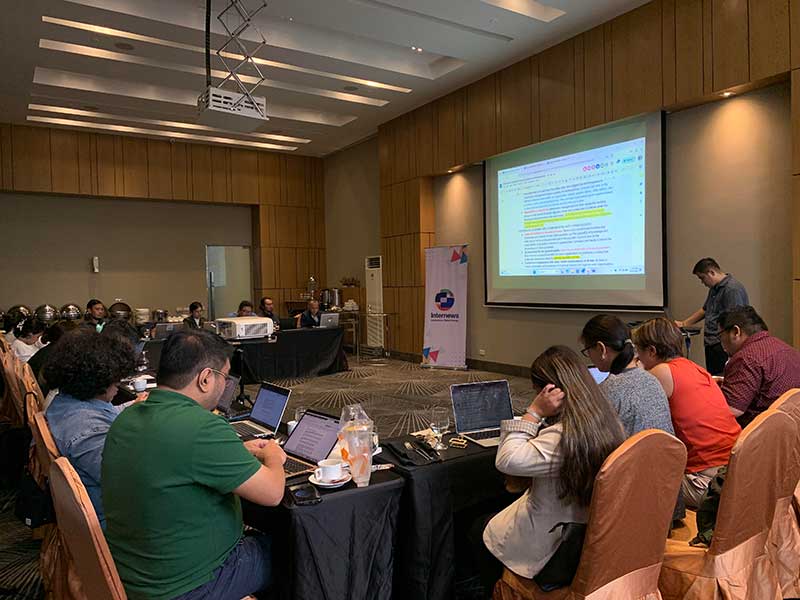 By Rjay Zuriaga Castor
Journalists from the national and regional newsrooms, including the Daily Guardian, have co-created an ethical framework on the use of Artificial Intelligence (AI) among media practitioners and newsrooms across the country.
The ethical guideline is expected to be launched and released by participating newsrooms and the general public this week. It is a product of the two-day workshop on AI, accountability, and disinformation on September 26 and 27, 2023 at Bonifacio Global City in Taguig.
The framework was co-created by media representatives from BicoldotPH, ABS-CBN News, Digicast Negros, News5 Digital, Inquirer.net, PressOne.PH, Baguio Chronicle, GMA Integrated News, Mindanews, Palawan News, Facts First PH, VERA Files, Inquirer.net, and BicoldotPH.
Funded by the United States Agency for International Development-Regional Development Mission for Asia (USAID-RDMA) through its Bolstering Media and Information Human Rights in Southeast Asia program, the workshop was organized by Internews, a non-profit organization that trains journalists and offers business expertise to media outlets to become financially sustainable.
Vino Lucero, Internews Program Officer in Asia, emphasized the importance of preparing for the growing influence of AI in journalism.
"Given the rapid changes our development sa AI and how its is being used by individuals, I think appropriate na dapat yung newsrooms meron din kasi it acknowledges the fact na unavoidable at some point in the future na people will use AI to streamline their work and improve efficiency and unburden journalists from doing tasks that can be passed on — with guidance of course and oversight to AI powered tools," he said.
Lucero stressed that the use of artificial intelligence in journalism is a track in the near future and the creation of the ethical guidelines is just getting ahead of it.
When asked for comment on GMA Network's step on introducing the country's first AI-generated sportscasters, Lucero noted that the "skepticism comes from lack of knowledge because we fear what is unknown."
On September 23, GMA Network gave a first look at Maia and Marco, its new "courtside reporters" that officially debuted on the opening day of the National Collegiate Athletic Association Season 99 games on September 24.
"If we get to be exposed more [to] the use of AI, including the benefits and also the risks, the harms, and the issues around it, I think we will have a more nuanced view of AI," he added.
For Lucero, AI is not all good but definitely all bad as well but constant vigilance in using it is still crucial.
"AI still needs human oversight and I think that is being reinforced dun sa ethical guidelines that we drafted. With the use of AI, it should be clear to the bosses to newsroom managers na it is not meant to replace people. There are specific jobs na only humans can do," he explained.
Key aspects outlined in the ethical guidelines include the necessity for human supervision of AI, accountability, full disclosure regarding AI usage, responsible handling of user data, adaptability of AI policies, and protection of privacy and confidentiality in AI applications, among others.
"Hopefully we are able to sustain the engagements with those newsrooms present during the workshop not just doon sa pagtuloy, pag-update nung draft because it is a living document. Given that it's about the days of AI, we need to continuously update but also on other things," Lucero added.
The guideline drew inspiration from existing AI use policies from both the Philippines and international news organizations.
It is intended to serve as a reference for newsrooms in the country in the development of their own internal policies.