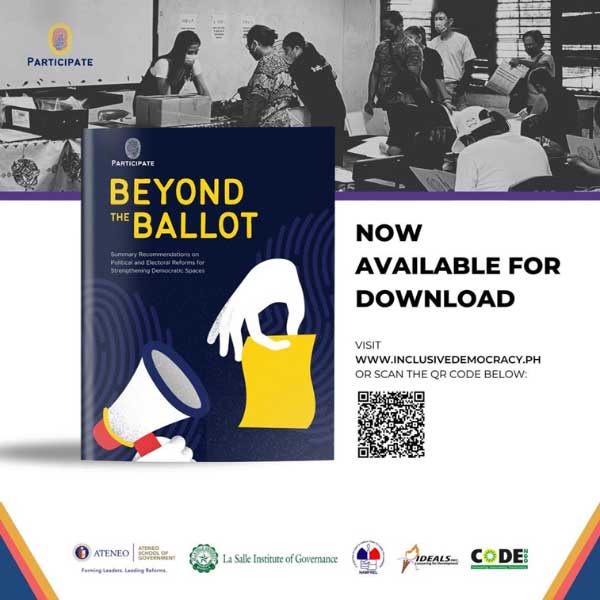 QUEZON CITY – Improving the political party system by emphasizing party ideals and policy agenda rather than personality-based politics can lead to better candidates and more competitive elections, according to a compilation of proposed political and electoral reforms by non-partisan, pro-democracy coalition PARTICIPATE.
Titled "Beyond the Ballot: Summary Recommendations on Political and Electoral Reforms for Strengthening Democratic Spaces", the compilation highlights the enactment of a political party development law that restricts political turncoatism or 'balimbing', ensures fiscal transparency on party expenditures, and increases women representation in political parties.
"Political parties that are poorly institutionalized, reliant on personal identity of their candidates and lack a coherent ideology or principle, will fail to stand for any particular policy agenda," PARTICIPATE Chief of Party Dr. Julio Teehankee said during its launch last May 2023. "These parties will often struggle to establish themselves as viable and sustainable institutions within a democratic system."
The compilation also featured an alternative bill on political party development law that integrated the current provisions of House Bill No. 488 or the Political Party Development Act of 2022 filed by former president and now Pampanga 2nd District Representative Gloria Macapagal Arroyo.
As part of the series of nationwide stakeholder consultations for the compilation, PARTICIPATE also conducted a multi-party dialogue where representatives from major political parties in the Philippines agreed on the need to pass a law penalizing political turncoatism or party-switching.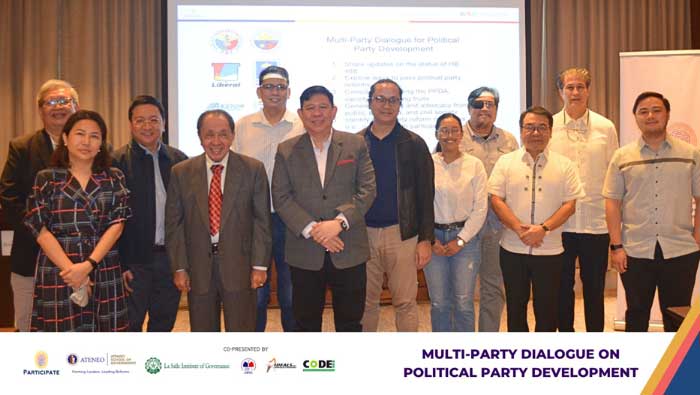 Organized   last    April   2023,   present   in    the    closed-door   event    were   Aksyon
Demokratiko Chairperson Ernest Ramel Jr., Akbayan Party (Akbayan) Youth National Secretary General Khylla Meneses, Bayan Muna Party-list (BAYAN MUNA) Chairperson Atty. Neri Colmenares, Labor Party of the Philippines (LPP) Vice
President      Dr.       Oscar Morado,         Lakas–Christian       Muslim          Democrats    (Lakas-CMD) representative Dio Remollo, Liberal Party (LP) Vice Chairperson Atty. Kit Belmonte, Partido Demokratiko Pilipino–Lakas ng Bayan (PDP-Laban) Public Information Chairperson Jonathan Malaya, and Partido Reporma representative Atty. Vincent Noel Aureus.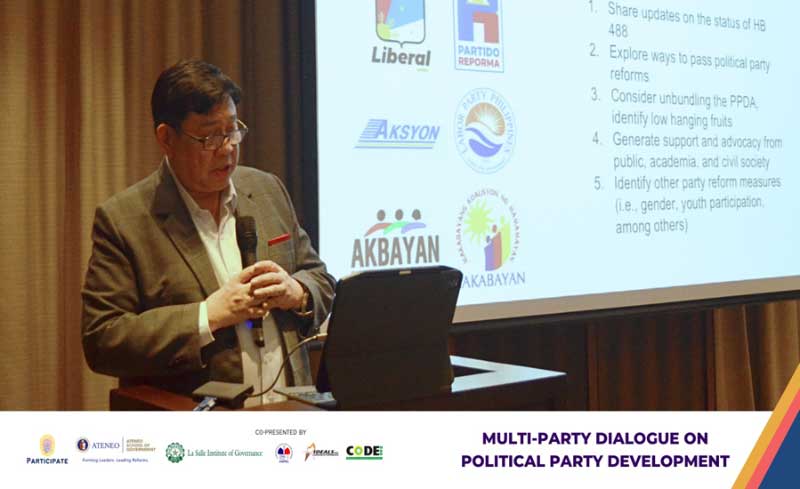 The party representatives also acknowledged the need to strengthen the linkages between political parties and civil society organizations.
PARTICIPATE is set to meet with other party leaders to gather broader support for the unbundled political and electoral reforms.
Other political and electoral reforms
Aside from political party development, the compilation also featured reforms to strengthen campaign finance, integrate civic education and voter engagement, and improve voter registration and verification. Among the annexes include a comprehensive review of the current Omnibus Election Code and proposed Senate Bill 179 or the proposed New Omnibus Election Code filed by Senator Imee Marcos.
The compilation was a product between the PARTICIPATE coalition composed of the Ateneo School of Government (ASOG), La Salle Institute of Governance (LSIG), National Citizens' Movement for Free Elections (NAMFREL), Caucus of Development Non-government Organization Networks (CODE-NGO), and Initiatives for Dialogue and Empowerment through Alternative Legal Services (IDEALS). It can be downloaded via their website, www.inclusivedemocracy.ph.
PARTICIPATE is a non-partisan, pro-democracy coalition dedicated to engage and empower the political participation of the Filipino people. It aims to strengthen citizen oversight of electoral processes, increase the availability and accessibility of information to promote informed voting, and support constituency-building for electoral reforms.