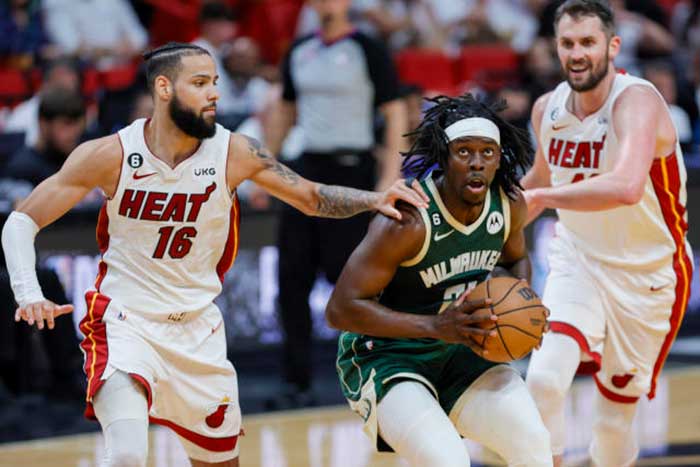 By Leobert Julian A. de la Peña
Ladies and gentlemen, Jrue Holiday is headed to the Boston Celtics.
Days after getting traded by the Milwaukee Bucks as part of a package in a three-team swap to acquire All-Star guard Damian Lillard, Holiday will again be shipped after the Portland Trailblazers agreed to a deal with the Celtics.
The development was confirmed last October 2, 2023, after the Celtics quickly announced Holiday's arrival in Boston.
In exchange for Holiday, the Celtics sent Malcolm Brogdon, Robert Williams, a 2024 first-round pick, and a 2029 unprotected first-round pick.
According to veteran NBA insider Adrian Wojnarowski of ESPN, the Celtics were frontrunners to acquire holiday hours after the three-team deal was done involving Portland and Milwaukee.
Boston needed a solid replacement when they let go of former NBA Defensive Player of the Year Marcus Smart to acquire Kristaps Porzingis.
Now that Holiday will don the C's green and white jersey when the NBA season kicks off, the Celtics' chances of making another trip to the Finals just increased as well as their power ranking in the league.
With defense becoming an issue when Smart departed, Boston just got a tighter backcourt duo with Holiday teaming up with Derrick White, one of the most versatile two-way guards in the modern NBA.
Holiday will also be looking to bring in his NBA championship experience where he won the chip with Milwaukee last 2021.
The defensive floor general was stellar during that six-game finals series against the Phoenix Suns and was tasked to contain the duo of Devin Booker and Chris Paul.
Since getting drafted into the NBA last 2009, Holiday is already a two-time NBA All-Star, a three-time NBA All-Defensive First Team, a three-time NBA Teammate of the Year, an Olympic gold medalist, and an NBA champion.