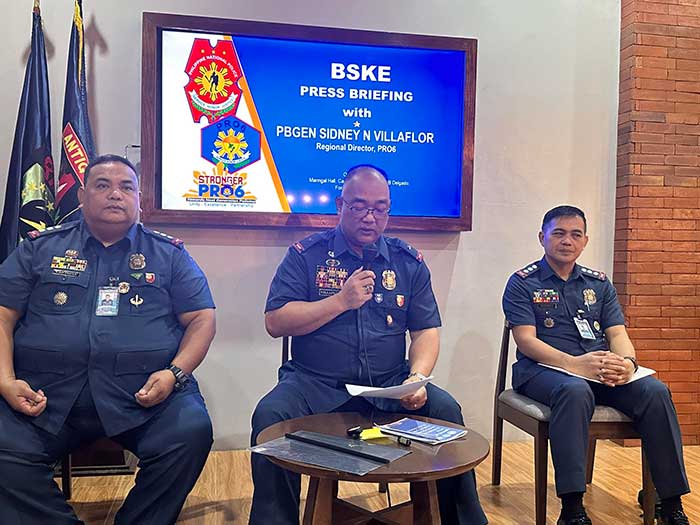 By Jennifer P. Rendon
At least 13 suspected election-related incidents (ERIs) were recorded in Western Visayas since the start of the election period.
But as of Oct. 28, the Police Regional Office (PRO)-6 noted that none have been validated, so far.
In a press briefing, Brigadier General Sidney Villaflor, Western Visayas police chief, said that 11 were already confirmed as non-ERIs while two are still to be validated.
One of these two incidents was the alleged vote-buying case in Banga, Aklan.
According to reports, a group of candidates allegedly went to the house of the complainant and left an envelope with money inside.
It was the mother of the person who received the envelope who filed a complaint three days after the incident.
The case was already referred to the Commission on Elections (Comelec)-Aklan but reports indicated that it might also be tagged as non-ERI.
The other case was an alleged violation of Republic Act 10173 or the Data Privacy Act of 2012.
A barangay kagawad candidate from City Proper district, Iloilo City accused a constituent of posting a CCTV footage of his/her relative without the latter's consent.
The details were not elaborate but police claimed that it might also be considered as non-ERI upon further evaluation.
Meanwhile, the incidents that were already tagged as non-ERI include three cases of vehicular incidents and one case each of missing person/found dead body, suicide incident, direct assault, grave oral defamation, hacking incident, stabbing incident, armed encounter and violation of the Comelec gun ban.
Most of these suspected ERIs happened in Capiz with 7 while two were in Iloilo City and one each in Aklan, Antique, Guimaras and Negros Occidental.
In the previous BSKE in 2018, the PNP did not record election-related violent incidents (ERVI).
It only recorded ERVIs during the national elections in 2016 and 2019.
In the 2016 national and presidential elections, there were two ERVIs. The two incidents killed two supporters of political candidates from the towns of Balasan and Calinog in Iloilo.
In the following national polls in 2019, there were three ERVIs.
The incident killed two Sangguniang Bayan members from Moises Padilla and one Escalante City, all in Negros Occidental.
There were no ERVIs during the 2022 national and presidential polls.