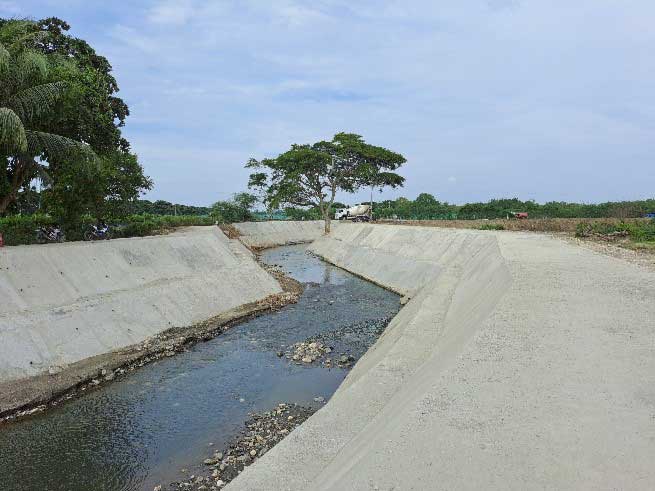 The flood control structures built by the Department of Public Works and Highways (DPWH) will ensure the safety and resilience of people and communities along the Higalaman River in San Carlos City, Negros Occidental.
DPWH-Negros Occidental Sub District Engineering Office is currently undertaking the construction of slope protection structures along both banks of the river to help mitigate the massive impact overflow when the water rises due to excessive rain.
The ₱95-million project involves the construction of 1,400-lineal meter concrete slope protection structures on both banks of the river, each measuring 700 lineal meters. It also includes the provision of bed course granular materials, gabions, and pipe culverts, as well as coco nets and sodding.
As reported by OIC-District Engineer Juan Alfonso G. Jorbina Sr., OIC-Regional Director Sanny Boy O. Oropel said the structures will prevent overflow that might cause flooding in the area when the water level rises.
"These enhanced structures will increase the resilience of communities and safety of people by reducing the severity of damage that may be brought about by flood especially when heavy and continuous rains occur," Oropel said.
"These structures will significantly divert the water away from residential areas, protecting the lives, properties, and livelihood of the people from possible heavy disruptions due to strong water currents when heavy rains occur" RD Oropel added.
Meanwhile, Jorbina added that the structures will help prevent the erosion of riverbanks, protecting not only communities but also agriculture and infrastructure along the river.
"This portion of Higalanan River, situated along Bacolod North Road, is surrounded by rice fields and other agricultural lands. Hence, this slope protection structure will prevent continuous erosion of river banks, protecting agriculture and infrastructure," DE Jorbina said.
Floods are some of the most devastating natural disasters that can occur, causing immense damage to property and even loss of life. Flood control structures are an important part of managing the risk of flooding.
By reducing the velocity of water, storing excess water, providing a safer environment for people, and improving the environment, they are an integral part of keeping people and property safe from the risk of flooding. (DPWH)