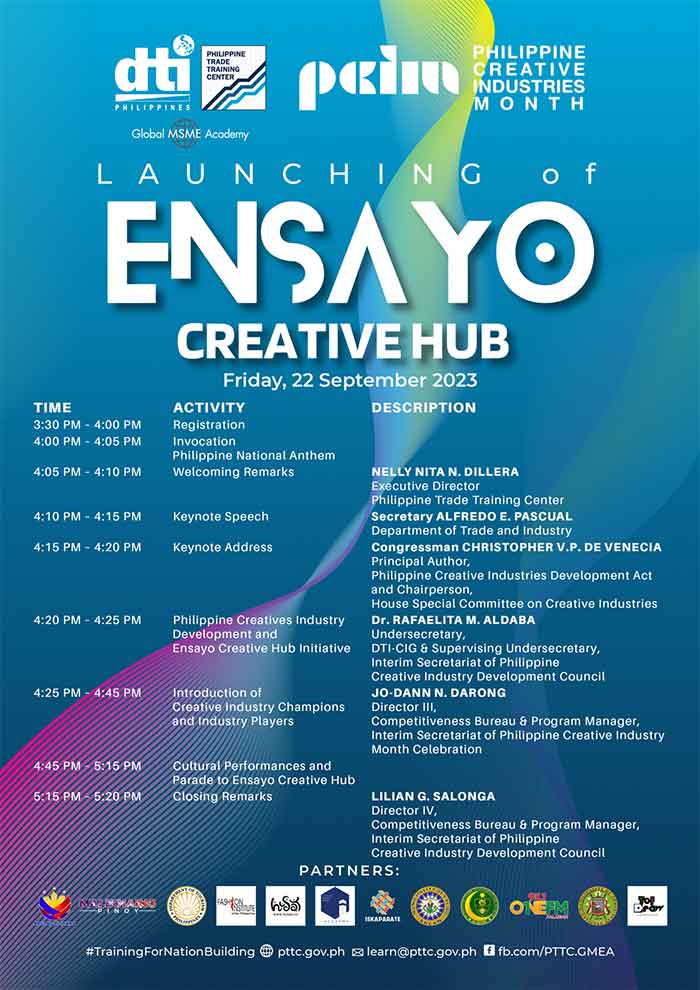 The Philippine Trade Training Center – Global MSME Academy (PTTC-GMEA) is thrilled to announce the launch of the ENSAYO Creative Hub, a project aimed at bolstering the Philippine creative industry's capabilities and global competitiveness.
The official launch event will take place today, September 22, 2023, from 3:30 PM to 5:30 PM, and will be attended by esteemed guests, including Cong. Christopher V.P. De Venecia, Chairperson of the House Special Committee on Creative Industry, and Secretary Alfredo E. Pascual of the Department of Trade and Industry (DTI).
ENSAYO Creative Hub, in alignment with the Philippine Creative Industries Development Act (PCIDA), is dedicated to advancing the interests of creative firms, artists, artisans, creators, creative workers, indigenous cultural communities, and creative content providers.
It recognizes the pivotal role that creativity and culture play in the nation's economic and social development.
ENSAYO Creative Hub directly supports the PCIDA by empowering creative talent through the provision of a co-working space equipped with tools and equipment to enhance design thinking capabilities.
This is a significant step toward strengthening capacities within the sector and supporting the growth of creative firms and individual artists.
The hub also plays a pivotal role in capacity-building initiatives through entrepreneurial and technical training programs.
These programs will equip creative workers with the necessary skills to excel in the global market, further aligning with the PCIDA's commitment to fostering talent and expertise within the creative sector.
ENSAYO Creative Hub will also foster networking and partnerships within the creative sector, creating opportunities for collaboration among various stakeholders.
This collaborative spirit directly contributes to the PCIDA's goal of enhancing ties within the creative industry ecosystem.
The project envisions a future where Philippine creative talents and works shine both locally and internationally. By providing a supportive environment, access to resources, and opportunities for growth, the hub is set to enhance the global presence of Philippine creativity, enriching the nation's cultural and economic landscape.
About PTTC-GMEA The Philippine Trade Training Center – Global MSME Academy (PTTC-GMEA) is a government agency under the Department of Trade and Industry (DTI) that provides training and capacity-building programs to micro, small, and medium enterprises (MSMEs) in the Philippines.
PTTC-GMEA aims to enhance the competitiveness and productivity of MSMEs through skills development, knowledge sharing, and networking opportunities. For more information, visit www.pttc.gov.ph.