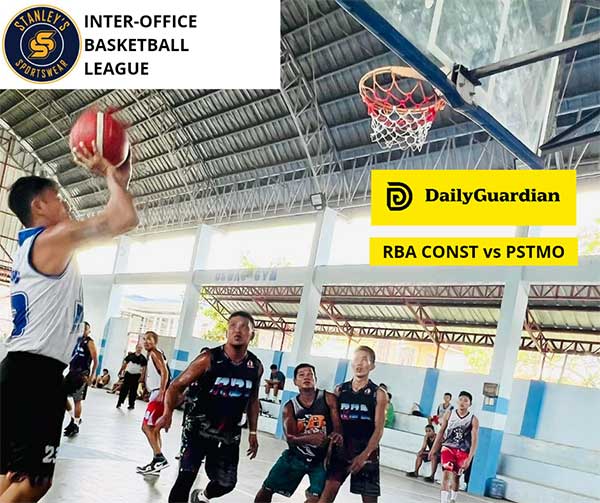 By Leobert Julian A. de la Peña
Team RBA Construction and team ICPS I PNP demolished their respective foes during the ongoing Iloilo City Inter-Office Basketball League organized by Stanley's Sportswear.
RBA maintained their untainted win-loss record and improved to 2-0 after crushing team PSTMO, 99-71, while the ICPS I PNP earned their first win of the tournament after taking down the Legato BPO, 83-53.
It was a tightly-contested first half between RBA and PSTMO, 27-25, after the undefeated team struggled in defending their opponents' perimeter shooting.
However, during the second half of the duel, RBA made their adjustments and were locked in defensively topped with better offensive execution that ballooned their lead to double-digits.
William Pillora was all over the place for RBA and shot the lights out, finishing the contest with 21 points, two assists, and a steal.
Dash Sumogat's 16-point contribution for team PSTMO wasn't enough and had to watch RBA torch them in the fourth quarter which dropped them to 0-2 in the team standings.
Meanwhile, team ICPS I PNP were all guns blazing against Legato BPO and just shot a ridiculously high percentage from the field.
It was all ICPS I in the game and immediately established a double-digit lead at halftime, 46-32, built from their fast break opportunities and crisp ball movement.
Carlo Lagatoy was a man on a mission for ICPS I after dropping an insane 24-point production and also recorded five dimes and three steals.
Legato wasn't able to find the answer and failed to trim ICPS I's lead to five in the second half despite Rolando Cunanan's 20 points.
In the other games of the tournament, team LEADGEN BPO nipped the Imperial Appliance Center, 95-91, and Chooks-to-Go got the better of Iloilo Mission Hospital, 70-59.
Mr. Jojo Castro is the tournament consultant while the living legend Mr. Abwe Estenor is the league commissioner.