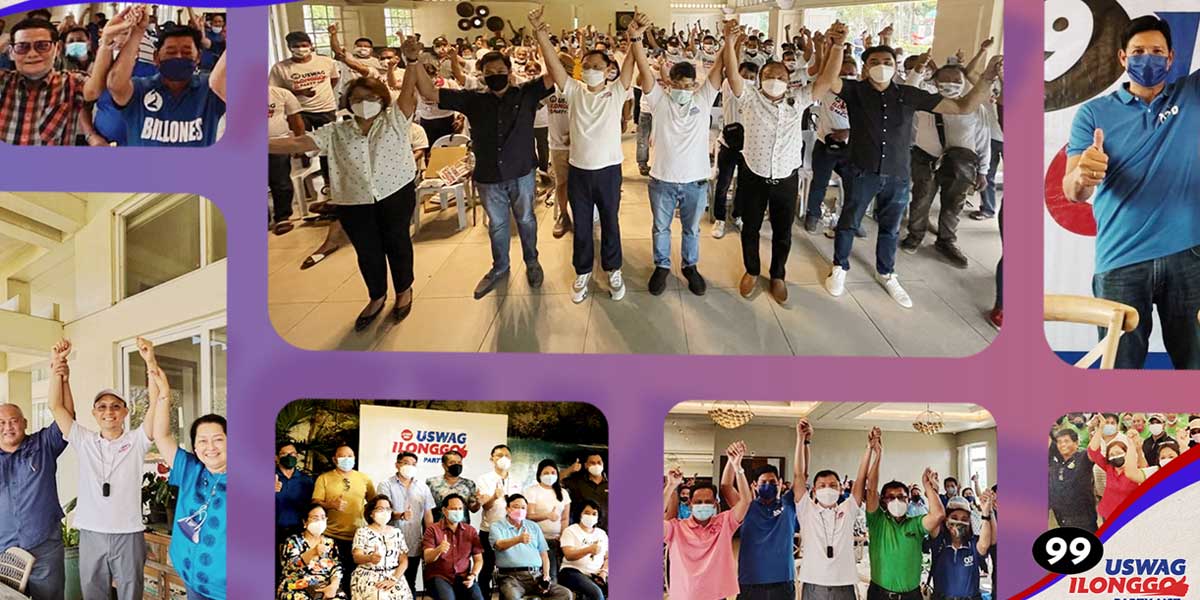 Just weeks ahead of the May 9, 2022 national and local elections, Uswag Ilonggo Party-list, No. 99 on the ballot, continues to gain ground as it has the backing of the biggest and most influential local political leaders in Western Visayas.
These leaders from the provinces of Aklan, Antique, Capiz, Guimaras, Iloilo, ang Negros Occidental believe that Uswag Ilonggo is the fulfillment of a dream of making Region 6 one of the premier regions and centers of progress in the Philippines.
Region 6 governors composed of Governor Florencio Miraflores of Aklan, Governor Rhodora Cadiao of Antique, Governor Esteban Contreras of Capiz, Governor Samuel Gumarin of Guimaras, Governor Arthur Defensor, Jr. of Iloilo, and Governor Eugenio Jose Lacson of Negros Occidental, along with Iloilo City Lone District Cong. Julienne "Jam-Jam" Baronda and Mayor Jerry Treñas; Iloilo province's 2nd district Cong. Michael Gorriceta, 3rd district Cong. Lorenz Defensor and 5th district Cong. Raul Boboy Tupas; and Capiz 1st district Cong. Tawi Billiones have all expressed support to the goals and directions especially the 5-point agenda of Uswag Ilonggo, the first ever regional party-list in the region.
Other notable leaders in the region who are backing Uswag Ilonggo Party-list include Mayor Luigi Gorriceta of Pavia, Mayor John Tarrosa of Zarraga, Mayor Junjun Jaen of Leganes, and Mayor Rema Somo of Santa Barbara, all in Iloilo province.
Despite diversities and different political affiliations, the region's top leaders are optimistic that Uswag Ilonggo can unite all Ilonggos for one universal aspiration – the welfare of the respective constituency.
Defensor, for his part, has long been rallying support for Uswag Ilonggo, a party-list that represents multi-sectoral groups.
"I am endorsing Uswag Ilonggo kay ako nagapati nga ini nga party-list can play a very important role in ensuring the success of many programs of government diri sa aton sa probinsya kag syudad sang Iloilo," the Iloilo governor said in a statement.
["I am endorsing Uswag Ilonggo because I believe that this party-list can play a very important role in ensuring the success of many programs of government in the province and city of Iloilo.]
He added, "Uswag Ilonggo is proud ka-Rehiyon 6. Mga utod kag pinalangga, suportahan gid naton ang Uswag Ilonggo… Kita kag ang Uswag Ilonggo isa lang ang tinutuyo kag ini ang mapahapos ang kabuhi sang mga Ilonggo sa aspeto nga mabatyagan nila adlaw-adlaw."
[Uswag Ilonggo is proud ka-Rehiyon 6. To our brothers and sisters, let us support Uswag Ilonggo… We only have one goal and that is to uplift the lives of all Ilonggos.]
In a statement, Cadiao was also all praises for Uswag Ilonggo.
"I believe that through Uswag Ilonggo, we can further forward our cause as a region and we can strengthen our strategies to stop this destructive disease and other problems that hinder our progress," the Antique governor said.
She also believes that when there is unity, Region 6 will be more progressive despite different political affiliations.
"We should work hand in hand for us to gradually rise from the struggles and problems brought about by the COVID-19 pandemic. And this is where Uswag Ilonggo Regional Party-list comes in as the manifestation and embodiment of Region 6 as one. We help as one, we rise as one," Cadiao added.
Moreover, Aklan leaders led by Gov. Miraflores are equally optimistic of the many developments that Uswag Ilonggo can bring to their province through its 5-point agenda.
Uswag Ilonggo's 5-point agenda are the following:
* The well-being of every Ilonggo family comes first;
* Proper healthcare for the poor;
* Consistent programs on infrastructure and tourism;
* Progress in agriculture and aquaculture (fishing); and
* Uphold more scholarships for the youth.
Miraflores assured Uswag Ilonggo of solid support from the Aklanons because they believe that the regional party-list can give louder voice and will be a stronger force in the Congress to effect legislations that are beneficial to Aklan and the whole Region 6.
Also, Treñas echoed the need to send regional party-list Uswag Ilonggo in Congress for the region to have louder voice and stronger force. The Iloilo City mayor believes that Uswag Ilonggo will be very beneficial for the Ilonggos and for the region's further development.
"Ako si Mayor Jerry Treñas sang Iloilo City kag ginapangabay ko gid ang inyo hamili nga bulig para sa Uswag Ilonggo Party-list, No. 99 sa balota. Palihog lang siguruhon ta ang pag-uswag sang aton nga probinsya, ang aton syudad, ang aton rehiyon. Buligan ta gid ang Uswag Ilonggo, No. 99 party-list, sa padayun nga pag-uswag sang aton rehiyon," Treñas added.
[I am Mayor Jerry Treñas of Iloilo City and I am humbly asking for your help for Uswag Ilonggo Party-list, No. 99 on the ballot. Let us make sure the progress of our province, our city, our region. Let us help Uswag Ilonggo, No. 99 party-list, for our region's further development.]
Iloilo City's congresswoman, meanwhile, affirmed that with Uswag Ilonggo Party-list as her partner in Congress, more programs and projects will be implemented in Region 6 that could benefit more Ilonggos. That is why Baronda is calling on all Ilonggos to unite and vote for Uswag Ilonggo Party-list on May 9.
"Patunugon pa gid naton ang tingog ta nga mga Ilonggo sa Kongreso agud nga mas madamo pa gid nga mga kautoran naton ang makabenepsiyo. Uswag Ilonggo ang magkigbatu para sa mga Ilonggo. Uswag Ilonggo ang magabulig sa mga Ilonggo. Uswag Ilonggo ang magaserbisyo todo-todo para sa mga Ilonggo. Maga-uswag pa gid kita pinaagi sa pagsakdag sa Uswag Ilonggo," Baronda said.
[Let's make our voice louder in the Congress so that more Ilonggos can benefit. Uswag Ilonggo will fight for the Ilonggos. Uswag Ilonggo will help the Ilonggos. Uswag Ilonggo will offer true and genuine public service to the Ilonggos. We will be more progressive by supporting Uswag Ilonggo.]
Western Visayas has 5,026,482 registered voters for the May 2022 elections – the biggest voting bloc outside the National Capital Region and Luzon.
Data from the Commission on Elections (Comelec) showed the following breakdown of voter population in the region:
* Iloilo City (330,470)
* Iloilo Province (1,628,752)
* Aklan (409,938)
* Capiz (248,643)
* Antique (387,998)
* Guimaras (124,076)
* Negros Occidental (1,896,605)
As a regional party-list, Uswag Ilonggo works on the mechanisms provided by Republic Act 7941 or the Party-List System Act which is defined as "A mechanism of proportional representation in the election of representatives to the House of Representatives from marginalized or underrepresented national, regional and sectoral parties, or organizations or coalitions thereof registered with the Comelec.