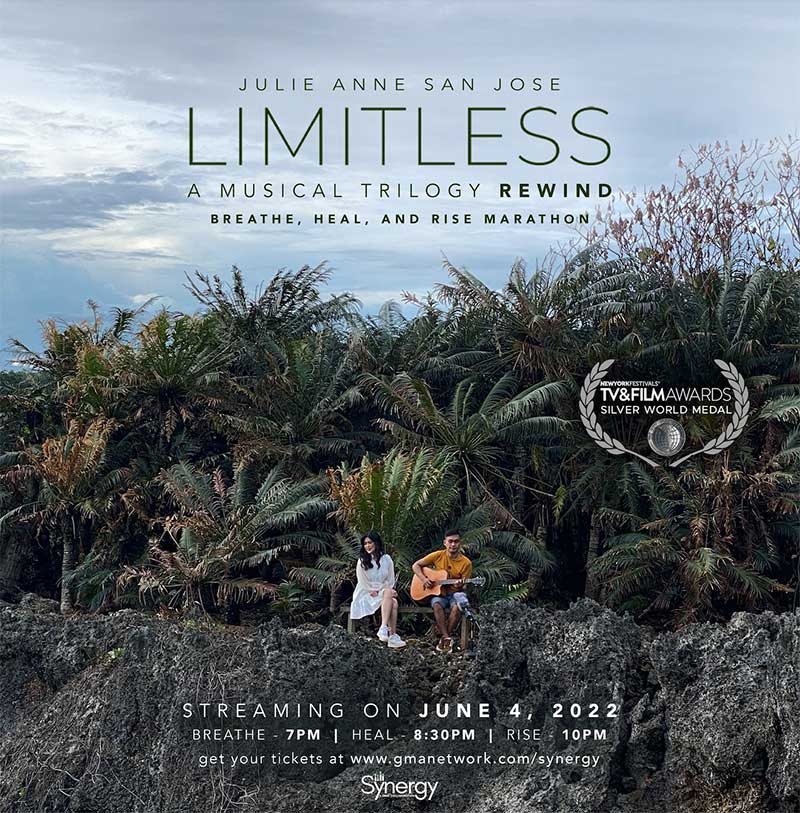 This Saturday, June 4, relive the musical experience of the 2022 New York Festivals TV and Film Awards Silver World Medal Winner as GMA Synergy offers limited tickets for "Limitless, A Musical Trilogy Rewind" featuring 'Breathe,' 'Heal,' and 'Rise'— with no commercial breaks.
It all started with Julie Anne San Jose wanting to share her journey with her beloved fans, giving birth to her three-part virtual concert Limitless: A Musical Trilogy."
Ticket buyers can purchase their tickets via www.GMANetwork.com/synergy.
The trilogy produced by GMA Synergy – creatively directed by Paolo Valenciano with Myke Salomon as the musical director – took Julie to experience the charm of Mindanao and "Breathe," then went to the picturesque Visayas to "Heal," and finally came home to bustling Luzon to "Rise."
Limitless did not only feature Julie's story as the singer, songwriter, dancer, multi-instrumentalist, and actress but it created a deeper appreciation of the Philippines' enchanting music and colorful heritage. It also inspired the rest of the world to keep their fire of hope burning.
"When the pandemic hit, the whole world stopped. But like every other artist, it takes a step forward to find purpose, to feel alive again. So, I embarked on this journey with my team from Mindanao, to Visayas, and to Luzon – it has reignited the fire within me. I have found myself, I am whole again," shared Julie.
The homegrown Kapuso artist is happy that more people will get the chance to join her in her journey. "Limitless: A Musical Trilogy Rewind' is perfect for this cuddle weather! Watch it with your friends, family, or your special someone at sabay-sabay tayong mag "BREATHE, HEAL and RISE," she added.
"Through Limitless, we saw how Julie was able to open herself up more to the public: who she is beyond being a singer, songwriter, dancer, multi-instrumentalist, and actress. "We got to know her different facets and learned more about her passions. And we all love her even more because of this journey," said GMA Regional TV and Synergy First VP Oliver Victor Amoroso. "On June 4, we invite everyone to relive this journey with us–this time with no intermission or commercial break. Just pure bliss being in the front row of Julie's beautiful journey and self-discovery," he added.
Limitless also showcased the talents of Kapuso stars close to Julie's heart including Rayver Cruz, Christian Bautista, Jong Madaliday, and Jessica Villarubin.
Last month, viewers showed their warm support to Julie's unforgettable journey during the three successive Philippine TV airing of her highly-successful concert on GMA.
For May 15, the 'Limitless: A Musical Trilogy' Part 1: Breathe on GMA' recorded 2.5 percent people rating in NUTAM (National Urban TV Audience Measurement), beating its counterpart on TV 5. This was followed by another win the following Sunday (May 22) with 'Limitless: A Musical Trilogy' Part 2: Heal on GMA' getting 2.5 percent NUTAM people rating. And last May 29,  'Limitless: A Musical Trilogy' Part 3: Rise on GMA' also won with 2.5 percent people rating. May 15 and 22 ratings are based on official readings, while the May 29 rating is based on overnight ratings.
Relive. Rewind. Watch. Don't miss 'Limitless A Musical Trilogy Rewind on June 4' streaming starts at 7 p.m. with Breathe, Heal at 8:30 p.m., and Rise at 10 p.m.
For tickets, visit www.gmanetwork.com/synergy.
More updates are available at www.gmanetwork.com