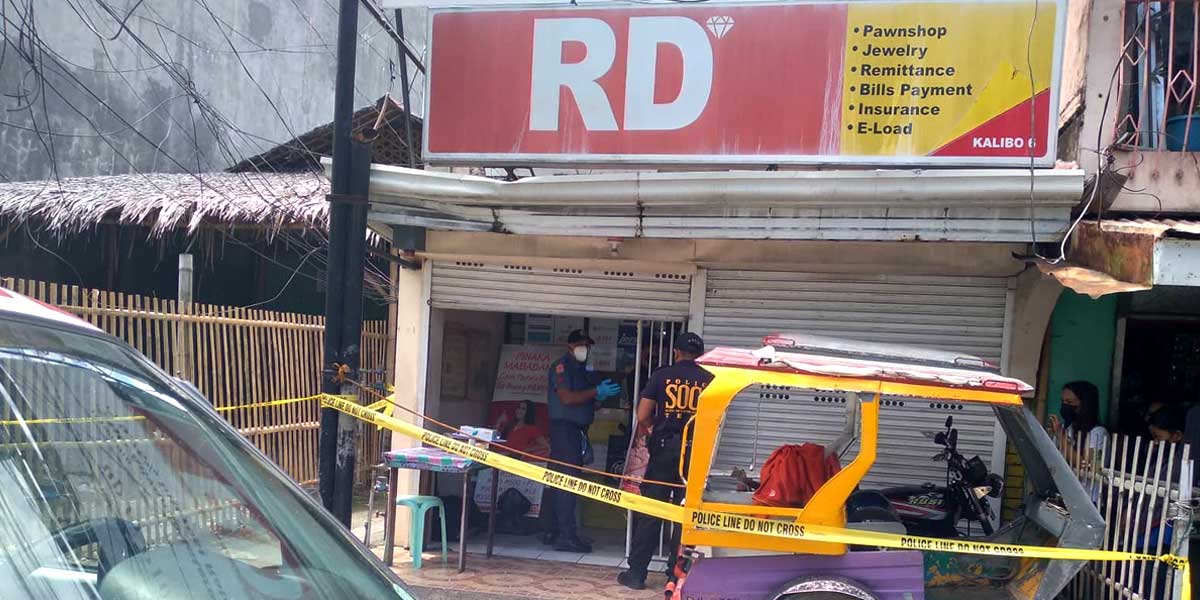 By Jennifer P. Rendon
Mayor-elect Juris Sucro of Kalibo, Aklan has offered a P30,000 cash reward to any person who could give information on the suspect behind the grisly murder of a pawnshop manager.
Sucro said the reward might help encourage the public to cooperate with authorities in solving the murder of 23-year-old Bonna Hercia Ambay, a reliever manager of RD Pawnshop located at Mabini Street, Poblacion, Kalibo.
The Kalibo Municipal Police Station identified Mark Archie Torrefiel as the lone "person of interest" behind Ambay's death.
Major Jasson Belciña, Kalibo police chief, declined to confirm if Torrefiel has already left Aklan.
But there were reports that  Torrefiel and his live-in partner left their home at Barangay Cajilo, Makato after the incident.
They could have proceeded to Caticlan Port where they boarded a ship.
Belciña said Ambay's family has also intimated that they are willing to offer an additional P70,000 to track down the perpetrator.
A resident of Pandan, Antique, the victim was temporarily staying at a boarding house in New Buswang, Kalibo.
She also used to work at a branch of RD Pawnshop in Numancia town.
The incoming duty security guard already had doubts that something was amiss after he noticed that the store's roll-up door was still closed but its secondary gate was open.
When they checked, they saw Ambay's body on the floor.
Investigation showed that the victim suffered multiple stab injuries in different parts of her body.
Belciña said the victim could have struggled based on the defense wounds found on her body.
The autopsy will be conducted on June 9.
Police recovered a pair of black slippers, blood-stained handcuffs and towel, a coin purse, a handbag, a knife, and a security guard's long-sleeved uniform with the namecloth Torrefiel MAR.
MOTIVE
Belciña said they have yet to determine the motive behind the incident although they're entertaining robbery as one of the angles.
The vault was not opened but the SOCO has yet to conclude if there was an attempt to open it.
The victim's mobile phone was missing and her wallet had been emptied of cash.
Investigators are also confirming if Ambay's piggy bank containing around P4,000 was missing.
Meanwhile, employees of RD Pawnshop claimed the guard and Ambay appeared to have no bad blood prior to the incident.
As this developed, Belciña said they are working to fix some glitches on the firm's CCTV footage.
The victim was the lone duty personnel while Torrefiel was the only security personnel when the incident happened.
They usually close shop at 5 p.m. every Sunday.
But from Monday to Saturday, the pawnshop had two or more personnel, on top of their security guard.
PREVIOUS CRIMINAL RECORDS
Belciña said they will also query Torrefiel's employer, Heart Security Agency, why he was hired despite his previous criminal records.
"Baka na hire siya without the police clearance," he said
Torrefiel has two robbery cases in Pasig City.
He was one of the suspects who robbed a student on Nov. 16, 2016 at Summerville in Pinagbuhatan, Pasig City.
Torrefiel and his companion allegedly poked a knife at the student and slapped and threatened to kill the victim.
He was also accused of theft in Batan, Aklan.