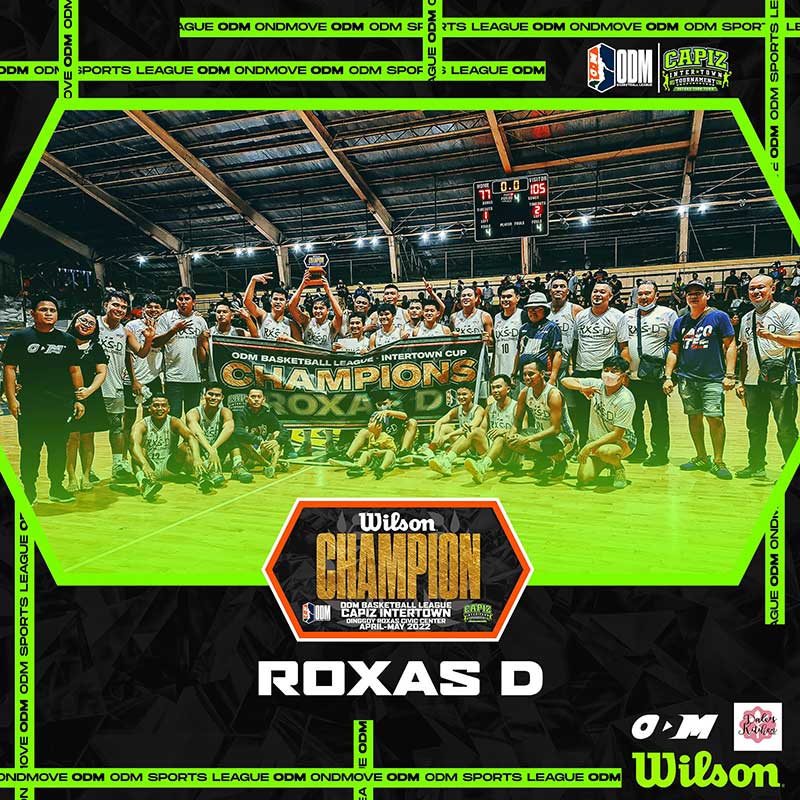 By Leobert Julian A. de la Peña
Ladies and gentlemen, Roxas D is your first-ever On D' Move (ODM) Sports League Capiz Inter-Town champions!
After making history by bringing back the Capiz Inter-Town basketball league after almost 30 years, the ODM committee headed by commissioner and founder Jeremiah Obera crowned the hoopers from Roxas D as they outdueled Roxas B, 105-77, during Game 3 of the grand finals.
Mon Lustria was a man on a mission as Roxas D leaned on his waxing-hot offense as he converted seven three-pointers to finish with 36 points, five assists, and six rebounds to become the first ODM Inter-Town Wilson Finals Most Valuable Player (MVP).
From the get-go, it seemed like Roxas B still faced the same problem they had during Game 2 when they failed to contain the crafty guard of Roxas D.
Lustria was quick to deliver the early offensive punch for Roxas D after sinking two three-pointers and converted a series of difficult step-back jump shots to end the first quarter on a high note.
Roxas B found difficulty in recovering from a turnover-ridden first quarter despite Burnok Olendo's hot-shooting and was overmatched by Roxas D's relentless drives that generated more points.
During the second quarter, the trio of John Vincent Ayo, Annel Aman, and Junvan Aringo torched Roxas B with their efficient offense that helped them close the first half with a 50-33 lead.
When everybody expected Roxas B to come back in the third quarter the same way they did during the last two games, it was a different story in Game 3 as Roxas D snowballed their way and continued piling up the points.
With Roxas B struggling to buy a basket while committing turnovers, Roxas D set the tone and dominated the whole second half.
Lustria ballooned the lead in the final canto and didn't allow Roxas B to trim their advantage to single digits and capped off his MVP performance with three-straight made shots from downtown that sealed the game and the championship.
Roxas D brought home the championship trophy plus 40,000 grand prize cash with additional team blowout catering from Dale's Kitchenette.
Meanwhile, Roxas B received the first-runner up trophy with 20,000 cash while the second-runner up had a 5,000 cash prize.