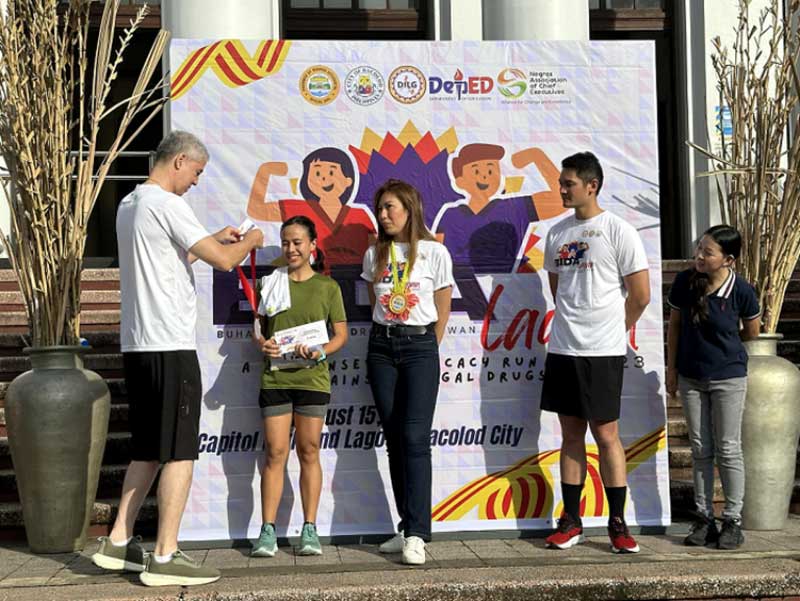 By Lorenzo Lambatin Jr.
BACOLOD City – A high-ranking official of the Department of the Interior and Local Government (DILG) announced the administration's anti-illegal drug program "Buhay ay Ingatan, Droga'y Ayawan" (BIDA) has been recognized as one of the best government projects in Asia.
DILG Undersecretary for Plans, Public Affairs, and Communication Margarita N. Gutierrez said Gov Media, an international award-giving body recognized the BIDA program recently as one of the outstanding government projects in Asia.
Gutierrez was the guest of honor during the 'BIDAlagan 2023: A Negrense's Advocacy Run Against Illegal Drugs' held August 15, at the Negros Occidental Provincial Lagoon featuring a five-kilometer run to dramatize Negrense's collective desire to fight illegal drugs.
According to her, the leadership of DILG Secretary Atty. Benjamin Abalos, Jr. in partnership with local government units, other national government agencies, civil society organizations, stakeholders and the DILG continues to roll out BIDA across the country.
She expressed elation that the Negrenses have demonstrated their desire to end the long-standing nemesis of Filipino society-illegal drugs.
Gutierrez noted that since the official launching of the BIDA Program last November 2022, they have already conducted various BIDA Roll-outs, BIDA Serbisyo Caravans, seminars, workshops, BIDA Fun Runs, Zumba sessions, and other health and wellness activities in over 700 LGUs all over the country.
"But this time, it will take on a new face as he cited the refined multi-sectoral and holistic approach of the government through the DILG's BIDA Program which aims to take on the drug menace by its roots through prevention, education, and rehabilitation," she said.
"My fellow BIDA advocates, we have truly come a long way in this fight, but we acknowledge that we still have a long way to go. That is why we are asking for your continued support. Hand in hand, let's walk this path together in unison, let us all work together to prevent more Filipinos from turning to drugs, and to give those who have fallen victim to it another chance to redeem," Gutierrez said.
For her part, DILG Provincial Director Teodora P. Sumagaysay said the BIDA award recognizes the hard work and dedication of the program's core partners – the Local Government Units (LGUs).
"May this honor motivate all of us to work harder to eliminate illegal substances in our communities. Let us always be advocates of living illegal drug free-lives," she said.
She also urged Negrenses not to stop advancing the province's cause against illegal drugs.
"Do not cease from caring for one another. As a line in a movie says, the moment we stop caring for each other is the moment we lose our humanity," she said. (PIA)