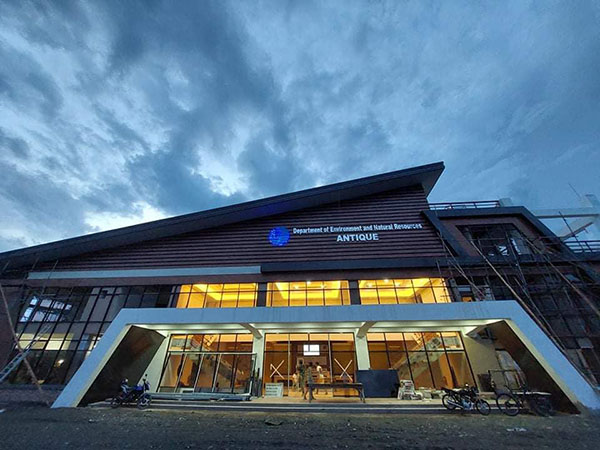 A dream is about to unfold.
As the "adopted son of Antique," Department of Environment and Natural Resources (DENR) Secretary Roy A. Cimatu wanted to make a difference and develop Malandog River in the province.
Thus, the dream of building a Balangay-inspired Provincial ENR Office of Antique.
DENR officials from Central Office and the region headed by Secretary Cimatu and Regional Executive Director Livino B. Duran along with the dignitaries from the Local Government Units (LGUs) and other partner agencies, offices and People's Organization (POs) will witness the blessing and inauguration of the building set on Tuesday, February 22, 2022.
The new DENR office will be a convergence building of various government agencies in the province.  This will also one of the venues to continue the rehabilitation in Malandog River and to guard the development already set in the area.
Malandog River is a provincial gem which was believed to be the witness to the first Malayan Settlement way back to the 13th Century.
The river passes through the municipalities of San Jose, Hamtic and Sibalom and serves as home for different mangrove species and hiding place for boats during bad weather.
The implementation of the program is anchored in the implementation of Clean Water Act (RA 8749), Clean Air Act (RA 9275) and Solid Waste Management Act (RA 9003).
This is the very reason why Malandog River Rehabilitation and Development Program (MaRiReDeP) was considered as one of the priority programs of DENR Secretary Roy A Cimatu.
The balangay was the first wooden boat that was excavated in Southeast Asia.  These boats were instrumental in the settlement of Austronesian peoples in the Philippines and the Malay archipelago.
"This Balangay project/building is the new identity of DENR Region 6 and making the entire history between us. The history of the past, where the 10 Bornean Datus land  in Panay, with the support of the DENR Secretary Cimatu, the LGU and the other stakeholders. This is the proof of unity of the people and government, a proof of rehabilitating the ancient Malandog River," DENR 6 Regional Executive Director Livino B. Duran said.
"The Balangay Project/ DENR Antique Convergence Building. You are not only a project. You are an Icon that depicts on how the culture of my province and of the whole region was sculptured in the annals of history," DENR PENRO Antique Andres T. Untal posted on his social media account.
            As remembered on previous years, Secretary Cimatu considered Malandog River as the "Center of Excellence" in the Province of Antique considering its historical, socio-economic and cultural significance to Antiqueños. (DENR-6)