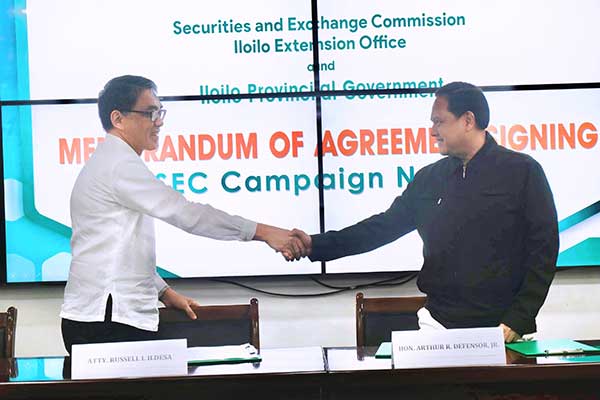 The Securities and Exchange Commission-Iloilo Extension Office (SEC-IEO) and the Iloilo Provincial Government signed a Memorandum of Agreement (MoA) on June 22, 2022 at the Iloilo Provincial Capitol, Bonifacio Drive, Iloilo City as part of the implementation of the SEC Communication Advocacy Network (SEC CAN!)
The MoA was signed by SEC-IEO Director Atty. Russell I. Ildesa and Iloilo Governor Arthur R. Defensor Jr.
The SEC Capital Market Promotion and Advocacy Inter-Agency Network or SEC CAMPAIGN Network partnership with said LGU is particularly relevant in the ensuring a wider and efficient dissemination of information and effective engagement with the local business sector.
"Through this MoA, the Commission would be able to maximize our reach and minimize the financial literacy gap particularly in the grassroots level. Together with our investor champions from the Iloilo LGU and our local stakeholders, we look forward to conduct series of collaborations from our webinars / seminars, advocacies, and other related programs that primarily aims to educate investors to protect themselves from fraudulent schemes and highlight accessible investment options available to the public," Atty. IIdesa said.
Meanwhile, Gov. Defensor expressed his enthusiasm in having this partnership come to fruition, "I already invited the SEC to be part of our forthcoming activities for the remainder of the year so we can continue to work towards making our plans for our stakeholders, non-profit organizations and the business sector in Iloilo into reality."
The Iloilo Province has been added to SEC-Iloilo's list of partners for the SEC Campaign Network dedicated to pursue common interests in financial literacy and investor protection aside from the Department of the Interior and Local Government (DILG) Region 6 and the Regional Association of State Universities and Colleges (SUC) VI, Inc. who respectively joined last April 2022.
Earlier this year the Commission successfully launched the SEC CAMPAIGN Network of the nine Extension Offices in the country who have formally signed with their respective partners from organizations in the public and private sectors. Video of said virtual launch can be accessed through the SEC Philippines official Facebook Page: https://fb.watch/e2rRKkTMja/