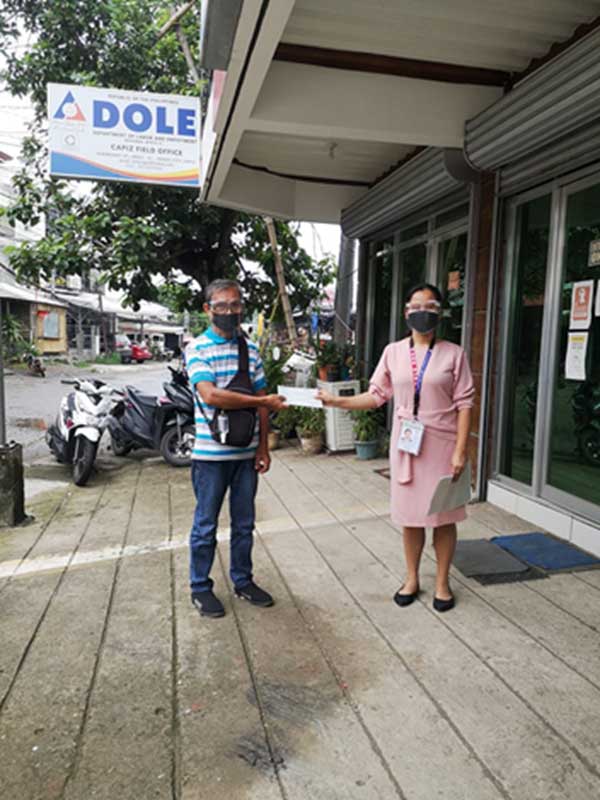 A retired worker of a hotel in Kalibo, Aklan received his retirement claim of P361,665.00 after a successful conciliation of the Desk Officer of the Department of Labor and Employment (DOLE)-Capiz Field Office.
The worker, an electrician and a native of Sapian, Capiz, was affected when the company's operation was suspended since March 2020 because of the pandemic.
Life had been very difficult ever since he was on a floating status, with no income to support his daily needs, growing medical expenses and the schooling of his son. His health also requires immediate attention since he only has one kidney left after undergoing surgery in 2019.
"Gin-operahan ako sang 2019 kag agud malikawan ang paghabok sang akon prostate kag para man sa hypertension kinahanglan ko gid ang bulong. (I underwent operation in 2019 and I badly need those medicines to prevent my prostate from swelling and for my hypertension)."
He turned 60 years old this year and the company is still temporarily closed. With the uncertainty of returning to work, he decided to retire and avail of his retirement benefit.
Requesting the payment of the retirement benefits to non-operational establishment is challenging. Thus, he sought assistance from DOLE after a failed negotiation with the company.
A virtual conciliation-mediation conferences through an online messanging app were conducted between the requesting party in Sapian, Capiz, the respondent in Manila through a representative in Aklan and Single Entry Approach (SEnA) Desk Officer in Roxas City, Capiz.
The company is currently facing financial challenges due to temporary closure, but it did not get in a way to reach a compromise settlement agreed by both parties after the 5th meeting within the 30-day mandatory period.
The settlement was made possible through the SEnA, a 30-day mandatory conciliation-mediation intervention program to affect amicable settlement of labor-related dispute.
Both parties agreed for an initial payment of P61,665 and the remaining balance will be paid through a Php 25,000 monthly payment until the entitlement is fully paid.
"Daku gid ang nabulig sang DOLE para makuha ko ang akon retirement claims. Kinahanglan ko gid ang bulong para sa akon maintenance tungod isa lang ang akon kidney. (I am very grateful to DOLE for helping me in my retirement claims. I need maintenance medicine because I only have one kidney left.)" said the worker.
The settlement facilitated by DOLE was a blessing to the worker. Through his claims his maintenance medicines were bought and his only son is assured to finish his course by the end of the academic year.
Through SEnA, the affected worker was able to buy his maintenance medicine to prevent prostate enlargement and high blood pressure, and was able to undergo the required yearly CT Scan monitoring.
The monthly payment has also covered the school expenses of his son who is currently on the last year of his Hotel and Restaurant Management Course.
The affected worker expressed gratitude for the assistance provided by DOLE which promises a bright future for his son and his family, "Kon wala ang DOLE siguro mabayaran man ako pero gamay kag madugay. Gapasalamat ako sa bulig sang DOLE kay luwas sa mga bulong ko napadayon pa ang pageskwela sang bata ko kag kabay nga makatapos na sya. (Without the assistance of DOLE, I could have waited long and could receive very minimal payment. I thank DOLE because aside from the maintenance medicine, I was able to send back my child to school and I hope he will graduate this school year.)"