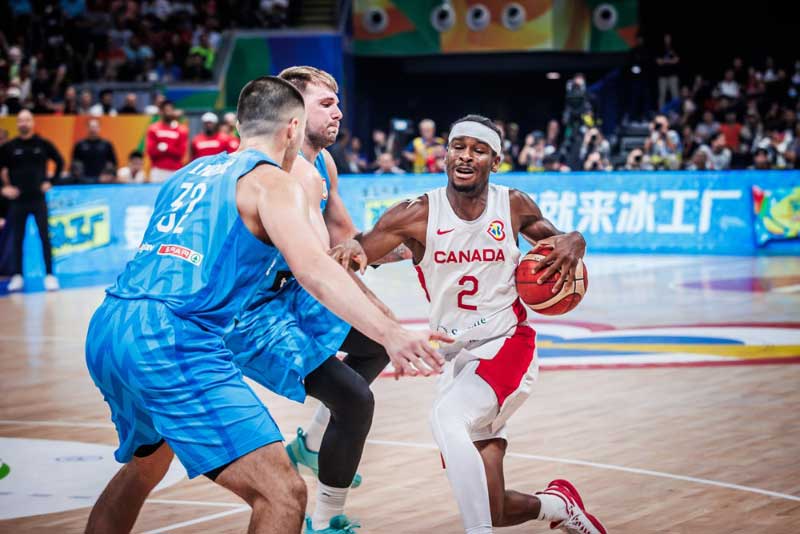 By Leobert Julian A. de la Peña
In another sell-out crowd at the Mall of Asia Arena, thousands of basketball fanatics came to see an epic superstar matchup between Canada's Shai Gilgeous-Alexander and Luka Doncic of Slovenia last September 6, 2023, during the quarterfinal round of the ongoing FIBA World Cup.
Despite the heavy cheers and loud screams from the Doncic-dominant crowd, Alexander only meant pure business and balled the lights out to help Canada eliminate Slovenia from title contention, 100-89.
Alexander embraced the head-to-head matchup against Doncic and out-performed him in the bright lights of the World Cup, dropping an impressive 31-point performance built from 8/12 shooting from the field.
It was an insane display of offensive bag as Alexander wowed the Filipinos with his various ways to score the leather and spearhead his team's quest for a FIBA World Cup title.
From his signature mid-ranged fade-away jumpers to his step-back shots, Alexander came to play and gave Slovenia the real deal in four grueling quarters.
Meanwhile, Doncic also had a great game and top-scored Slovenia with 26 markers but he could've produced more if he hadn't ejected from the game due to excessive complaining to the referees about the non-calls.
With still 6:40 remaining in the game and Slovenia trailing by 15 points, 92-77, Doncic was tossed out of the game due to a second technical foul.
The first half featured a high-octane run-and-gun style for both squads as Canada leaned on RJ Barrett and SGA's finishing ability while Doncic set his teammates up everytime he ran the horns action.
When the third quarter kicked off, Canada suddenly became a different team and put more emphasis on their defense as they threw different bodies at Doncic to frustrate him and get him out of his rhythm.
First it was the renowned NBA villain Dillon Brooks who received the task of stopping Doncic, then there was Lugentz Dort, one of the top defenders of the Oklahoma City Thunder.
The defensive coverage worked for Canada as Doncic lost focus in the game, allowing the physicality of Brooks and Dort to affect his performance.
Barrett also played huge against Slovenia and provided the early first-half spark for Canada, ending the quarterfinal game with 24 points and nine rebounds.
With the win, the Canadians will challenge the Serbian national team led by Atlanta Hawks' shooter Bogdan Bogdanovic in the semifinal round of the World Cup.