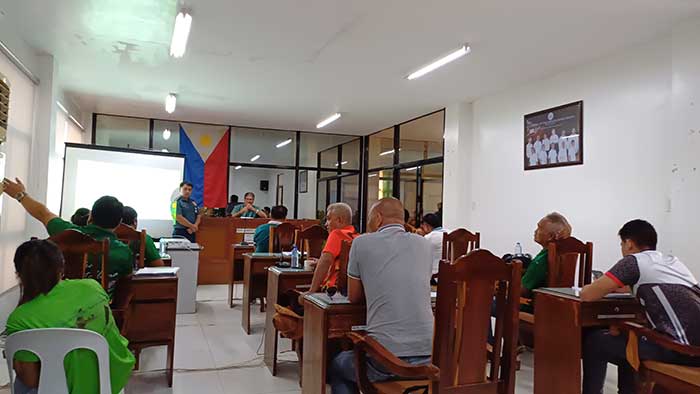 By Dolly Yasa
BACOLOD City – Sangguniang Bayan Member (Councilor) Donato "Natnat" Dumaguit of La Castellana, Negros Occidental who figured in the P15-million PNP recruitment "scam" was given 15 days to appear before the council and explain his absences or else he will be sanctioned.
SB Member Leonardo Bacquian, chair of the La committee on rules, told Daily Guardian that they passed a resolution during their session Wednesday presided by Vice Mayor Alberto Nicor giving Dumaguit an ultimatum.
"We are affording him substantial due process despite the fact that his unexplained absences are already excessive," Bacquian said.
Bacquian pointed out that based on the Local Government Code, a member of the municipal council is only allowed three consecutive unexplained absences.
Dumaguit now has six consecutive unexplained absences after he did not show up in Wednesday's regular session.
"Unless he shows up in 15 days or gives us an explanation of his absences we will be left with no choice but to recommend to the chief executive his sanction for dereliction of duty," Bacquian said.
He said it would be up to Mayor Rhummyla Nicor-Mangilimutan where to refer Dumaguit's case.
Bacquian said the SB secretary has again issued a letter notifying Dumaguit of his absences, which was posted at his residence and also received by his sibling.
He added that they were able to communicate with Dumaguit through private messages and the latter told them he would not attend the session giving no reason except that he fears for his life.
Bacquian reiterated "We are giving him due process."
Meanwhile, Bacquian also said that nine alleged victims of Dumaguit appeared in their regular session.
He said the victims claimed it was Dumaguit himself who recruited them to join the PNP service and assured them a slot in exchange for P247,000.
Bacquian said some of them gave an additional amount of P25,000 to Dumaguit as additional money for their trip to Manila for their alleged oathtaking.
He said the victims told the council all they want is justice.