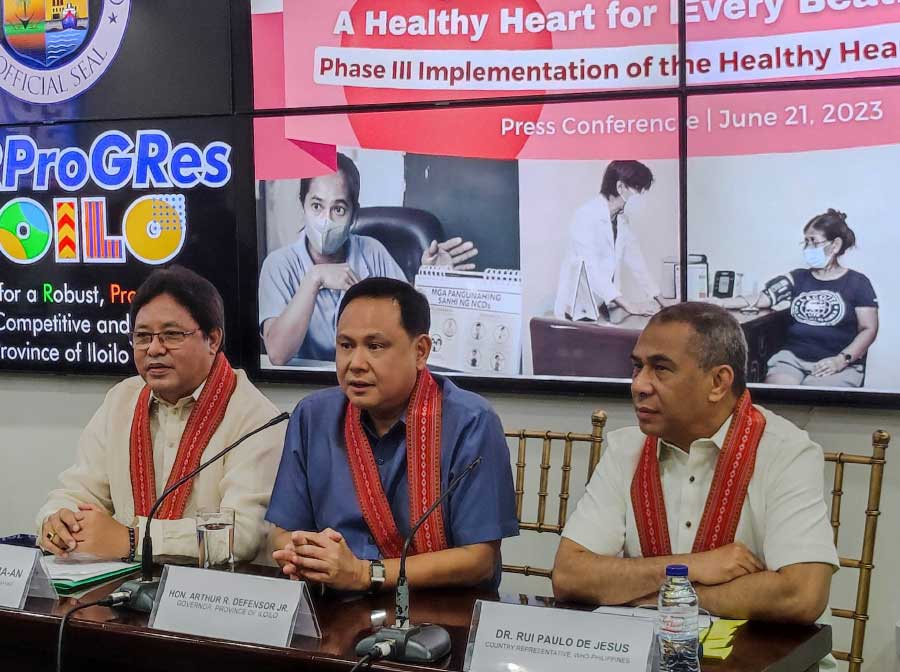 By John Noel E. Herrera
The Iloilo Provincial Government strengthened its treatment and awareness campaign on non-communicable diseases (NCD), like cardiovascular diseases (CVD), diabetes, cancer, and chronic respiratory diseases, through the Phase III implementation of the Healthy Heart Project in the province.
In a press conference on Wednesday, June 21, 2023, Iloilo Governor Arthur Defensor Jr., acknowledged that the province should adjust its direction on NCD, as it is considered one of the "most serious problems in health" and one of the leading causes of death in the province.
"Our programs on NCD in the province, we want it to make a mainstream program in health. We want our non-communicable diseases to be part of the mainstream programming of the province because it is actually one of the most serious problems in the area of health," Defensor said.
Data from the Iloilo Provincial Health Office (IPHO) indicated that seven of the top 10 leading causes of mortality in the province were due to NCDs, which include Myocardial Infraction (691); Cancer (474); Diabetes Mellitus (264); Kidney Diseases (257); Coronary Artery Diseases (253); Chronic Obstructive Pulmonary Diseases (221), and Congestive Heart Failure (200).
The governor even described NCD as a lingering condition that "causes other national emergencies and crisis situations, particularly the burden on our healthcare system and the death it causes to our population", but noted that through the Healthy Heart Project, people would be aware of their health status and possible effects of their lifestyle.
On Wednesday, Defensor, together with Department of Health (DOH)-6 director Dr. Adriano Suba-an, World Health Organization (WHO) country representative Dr. Rui Paulo De Jesus, and IPHO chief Dr. Maria Socorro Colmenares-Quiñon, led the launch of the Phase III implementation of the Healthy Heart Project in the province.
In a press conference, De Jesus stressed that almost all NCDs are preventable, but 70 percent of people still die due to these diseases, tagging NCDs as silent killers.
"We address most of the NCDs in this program, including how to educate individuals and communities to have a healthier lifestyle. That is the main message that we are trying to convey. If you look at the statistics from DOH, 70 percent of people died from NCD, therefore it became more and more important," De Jesus said.
Defensor noted that NCDs in the country could already be considered a national emergency, citing that it is also a matter of nutrition issues and lifestyle measures.
"Nothing is more important than life, and on the other hand, if it's 70 percent of the mortality rate, you can also see the burden on our healthcare system at that expense. So, it is in the level of a national emergency. That is why I said that we should make adjustments on our treatment and the way we see it," the governor said.
Meanwhile, Suba-an explained that the project provides a technical and strategic approach to local health workers in improving cardiovascular health by strengthening CVD management in primary health settings.
Suba-an added that the project was primarily implemented in the 1st district of Iloilo in January 2021, and is now being expanded to 16 more towns in the province, which include Ajuy, Anilao, Alimodian, Badiangan, Banate, Batad, Carles, Concepcion, Dueñas, Janiuay, Lambunao, Lemery, Mina, New Lucena, San Enrique, and Zarraga.
DOH-6 data also showed that out of around 25,000 hypertensive patients in Iloilo enrolled in the project, 80 percent have already exhibited controlled BP (blood pressure).
Aside from Iloilo province, the DOH-6 and WHO are also set to implement the program in Antique, particularly in Tobias Fornier, Hamtic, Sibalom, Culasi, Patnongon, Barbaraza, Pandan, Tibiao, and Bugasong, to decrease premature deaths from CVD in the region.
"The expansion hoped to further improve the service delivery of NCD-related diseases in our health facilities, such as detection and control, creation of local government programs, and the continuous assessment of risk factors to the community," Suba-an said.