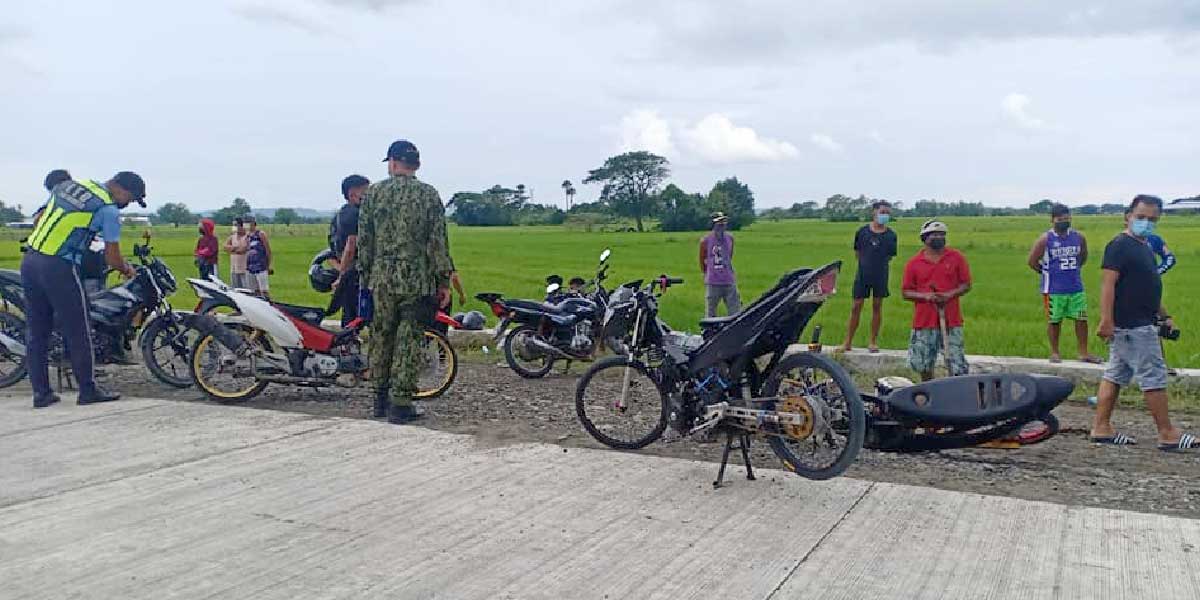 By Jennifer P. Rendon
Everything is set: spectators, riders, and bettors. Well, almost. Then it went pfft.
An illegal drag race was supposed to start when officers of the Oton Police Station, 1st Iloilo Provincial Mobile Force Company, and the Regional Highway Patrol Unit 6 (RPHU-6) unceremoniously arrived.
Police went to Barangay Abilay, Oton, Iloilo around 3:30 p.m. August 10 following reports that scores of individuals were either participating or witnessing a race in the area.
Police subsequently arrested Phil Heart Suriga, 28, of Barangay Tigum, Pavia, Iloilo; Adrian Supeña, 22, of Alta Tierra Village, Jaro, Iloilo City; Radgie Sinosa, 21, of Barangay Cari Mayor, Leganes, Iloilo; Dionesio Azares of Banica, Roxas City, Capiz; Daryl John Patented, 25, of Osmeña St., Arevalo, Iloilo City; and alias Jun, a minor.
The police teams went to the area to implement Republic Act 4136 (Land Transportation and Traffic Code).
A police report stated that the suspects were apprehended for various violations such as driving an unregistered vehicle, unauthorized helmet, expired vehicle registration, and illegal modification of mufflers.
Thirteen vehicles – seven four-wheel vehicles and six motorcycles – were initially taken into custody.
Three four-wheel vehicles and three motorcycles were later impounded.
The participants apparently did not know that one of the spectators was a police intelligence officer, who cheered them on.
The arrest was made after the police were deployed to both ends of the race area.
Last June 13, seven motorcycle drivers were arrested at the circumferential road in Barangay Pulo Maesta Vita, Oton.
The patrol team of Oton Police implemented the municipal ordinance against the use of modified muffler around 4:00 p.m. of Sunday at the circumferential road.
Police made the rounds along the stretch of the circumferential road following numerous complaints of noise from motorcycle riders who gather in the area.
There were also previous complaints that some riders raced against each other. Drag or motorcycle racing have also been reported in other towns of Iloilo province.
On February 25, four men who allegedly led an unsanctioned motorcycle race were arrested in Dumangas town.
The suspects were charged for violating Presidential Decree 1602 or the anti-illegal gambling law of the country.
There is no explicit law against illegal street racing.
But late this year, the House Committee on Transportation approved House Bill No. 3391, which seeks to prohibit and penalize drag racing activities on all public roads across the Philippines.
Under the bill, violators will be slapped with P300,000 to P500,000 penalty and may face jail time of up to one year.