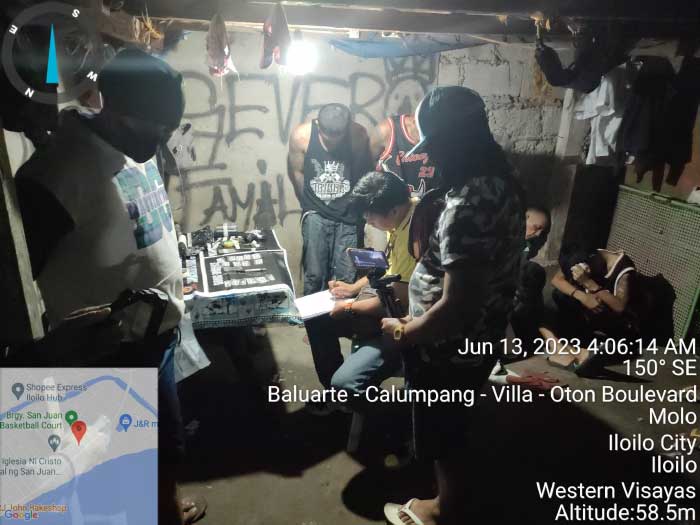 By Jennifer P. Rendon
Six persons were arrested in a police anti-illegal drugs operation in Molo, Iloilo City, early morning on June 13.
The suspects, identified as Glenn Deslate, Gerald Gevero, Jay Constantino, Estanislao Hinojales, Eduardo, and John Vincent Geverol, were residents of Zone 1, Barangay San Juan, Molo.
The operation was carried out by the Iloilo City Police Office-City Drug Enforcement Unit (ICPO-CDEU), together with operatives from the Regional Police Drug Enforcement Unit (RPDEU) 6, PNP Drug Enforcement Group (PDEG), and Iloilo City Police Station 4.
The group was apprehended at Deslate's house at Barangay San Juan around 2:50 a.m.
Lieutenant Colonel Antonio Benitez Jr., CDEU chief, stated that Deslate was the primary target and allegedly conspired with Gerald and Constantino to sell a sachet of suspected shabu for P15,000.
The trio were identified as high-value individual (HVI) drug personalities, while the other three suspects were classified as street-level pushers. During the operation, authorities seized 15 more sachets of suspected shabu, dried marijuana leaves, a mobile phone, empty plastic sachets, weighing scales, an improvised 12-gauge shotgun, a caliber .9mm pistol with ammunition, lighters, scissors, a coin purse, a glass water pipe, and a sling bag. The seized drugs weighed approximately 70 grams, valued at P476,000.
The arrest took place at a dilapidated house owned by Deslate, located near a lot where he is constructing a new house. The arrested individuals have previous drug-related charges, and Deslate and Gevero also face charges of frustrated murder, while Constantino has been accused of robbery and homicide.
Given the firearms seized, authorities are considering the possibility of the group engaging in further criminal activities. Deslate, Gerald, and Constantino are currently detained and will be charged with violations of Sections 5, 11, and 26, Article II of Republic Act 9165 (Comprehensive Dangerous Drugs Act of 2002), while the other three suspects will face charges for violation of Section 11 of RA 9165. All suspects will also be charged with violation of RA 10591 (Comprehensive Firearms and Ammunition Regulation Act).