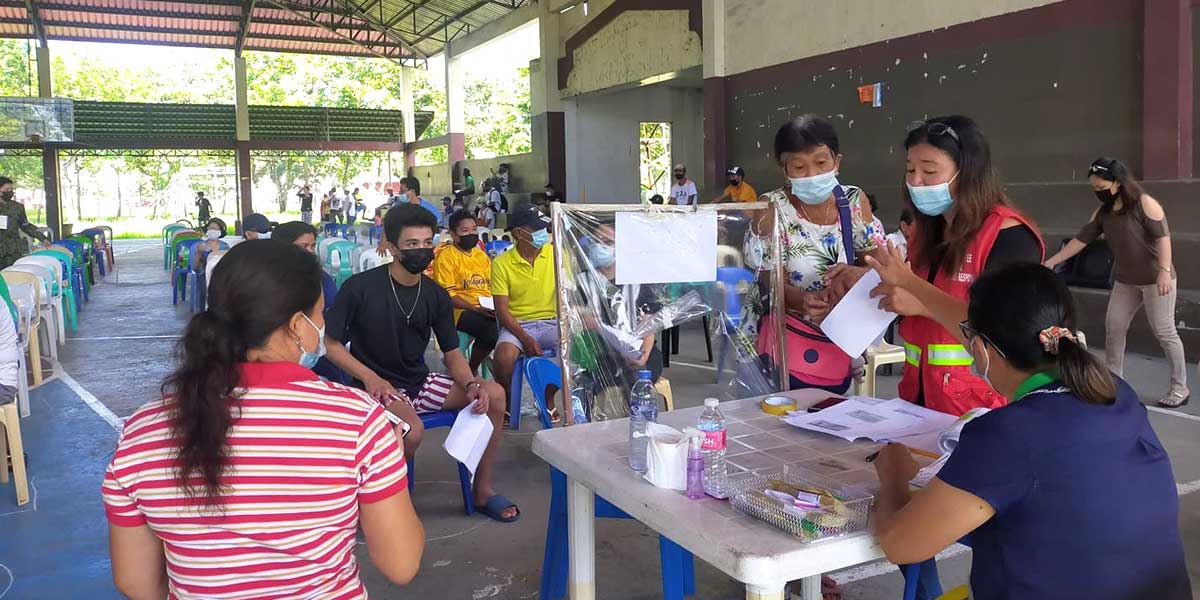 By Jennifer P. Rendon
No local government unit in the city and province of Iloilo has completed the 100 percent distribution of the cash aid intended for areas under the enhanced community quarantine (ECQ).
The two areas in Western Visayas were earlier placed under ECQ over a surge in COVID-19 cases.
Days after the August 15 deadline of the distribution of the enhanced community quarantine (ECQ), around 71.52 percent of the target beneficiaries have received their financial "ayuda."
As of 12 noon of August 19, the Department of Social Welfare and Development-Region 6 (DSWD-6) said 1,903,967 individuals or 589,416 families have received the special AICS.
The agency said P1,903,967,000 was already released by the different LGUs.
Anilao has almost completed the distribution at 99.42 percent. That equated to 32,593 individuals or 10,110 families. The local government was able to release P32.593 million.
Leganes came in next at 95.01 percent after it was able to disburse P29.106 million to 29,106 individuals or 9,465 families
Carles was able to give assistance to 22,552 families or 94.68 percent of their target. It was able to release P74.072 million.
The release rate of other towns were:
* Ajuy                       – P47.838 million (76.41%)
* Alimodian.            – P36.791 million (92.44%)
* Badiangan           – P21.131 million (72.77%)
* Balasan                – P32.230 million (77.63%)
* Banate.                 – P35.131 million (89.74%)
* Barotac Nuevo    – P52.702 million (80.57%)
* Barotac Viejo       – P44.981 million (83.41%)
* Bingawan             – P13.978 million (79.82%)
* Batad                    – P23.118 million (90.00%)
* Cabatuan             – P53.934 million (81.92%)
* Calinog                 – P46.348 million (81.88%)
* Concepcion          – P40.878 million (85.33%)
* Dingle                    – P40.438 million (75.58%)
* Dueñas                  – P31.151 million (79.33%)
* Dumangas            – P67.509 million (78.40%)
* Estancia                – P43.429 million (84.58%)
* Guimbal                – P30.844 million (79.80%)
* Janiuay                 – P52.724 million (83.06%)
* Lambunao            – P56.149 million (68.60%)
* Lemery                  – P27.822 million (76.04%)
* Leon                      – P39.272 million (70.58%)
* Maasin                 – P32.283 million (86.95%)
* Miag-ao               – P46.825 million (67.83%)
* Mina                      – P21.988 million (77.77%)
* New Lucena         – P21.523 million (90.97%)
* Oton                       – P73.917 million (70.99%)
* Passi City              – P77.960 million (82.95%)
* Pavia                      – P75.149 million (90.67%)
* Pototan                  – P69.009 million (81.15%)
* San Dionisio          – P37.429 million (84.75%)
* San Enrique          – P30.999 million (74.05%)
* San Joaquin          – P38.875 million (73.66%)
* San Miguel            – P25.603 million (81.05%)
* San Rafael            – P16.201 million (84.70%)
* Santa Barbara     – P64.946 million (85.96%)
* Sara                       – 50.219 million (81.40%)
* Tigbauan               – P53.419 million (78.08%)
* Tubungan              – P16.293 million (67.33%)
* Zarraga                  – 27.201 million (85.56%)
Iloilo City, which got the bulk of the special AICS, distributed P123.679 million to 43,933 families. But the number is only 26.79 percent of its target beneficiaries.
Iloilo City and other LGUs earlier asked the DSWD for the extension of the distribution of special AICS from the August 15 deadline.
Mayor Jerry Treñas has also asked DSWD for additional fund to cover all other affected individuals.
Again, the DSWD-6 reiterated that the LGU determines the beneficiaries based on the established guidelines as stipulated in Joint Memorandum Circular (JMC) No. 2, Series of 2021 undertaken by DSWD along with the Department of the Interior and Local Government (DILG), and the Department of National Defense (DND).
DSWD's AICS program is the provision of integrated services to individuals and families in crisis or difficult situation.
JMC No. 2 sets the implementing guidelines for the distribution of financial assistance to LGUs under ECQ.
Based on the guidelines, priority target beneficiaries of the special AICS are affected individuals and families who are suffering from the economic disruption brought about by the declaration of a localized ECQ in their area.
The target beneficiaries may include families who were previous recipients of the Social Amelioration Program (SAP) under Bayanihan 1 and additional beneficiaries of emergency subsidy under Bayanihan 2; individuals belonging to vulnerable groups, such as individuals living alone, senior citizens or Persons with Disability (PWD); and others who have been stranded by reason of employment in the province, city, or municipality under ECQ.
The JMC emphasized that the target beneficiaries, at the time of the declaration of the ECQ, must be physically residing, either temporarily or permanently, or who are still in the ECQ areas.
Compared to the government's social amelioration program (SAP), AICS is more inclusive.
"As long as your means of livelihood is affected, you should be included," May Rago-Castillo, DSWD-6 regional information officer, earlier said.
To avoid bogus beneficiaries, the LGUs are expected to post on their official websites, social media accounts, and at conspicuous places in the concerned barangays the list of approved beneficiaries, prior to actual distribution.
Based on the JMC, LGUs will create their own Grievance and Appeals Committee to receive and address complaints or grievances.
"Through the grievance and appeals desk, those individuals who will appeal for inclusion could be added to the list of beneficiaries," she said.
DSWD-6 confirmed that 665,561 families are targeted to be covered for a P2.6 billion stimulus package in the city and province of Iloilo.