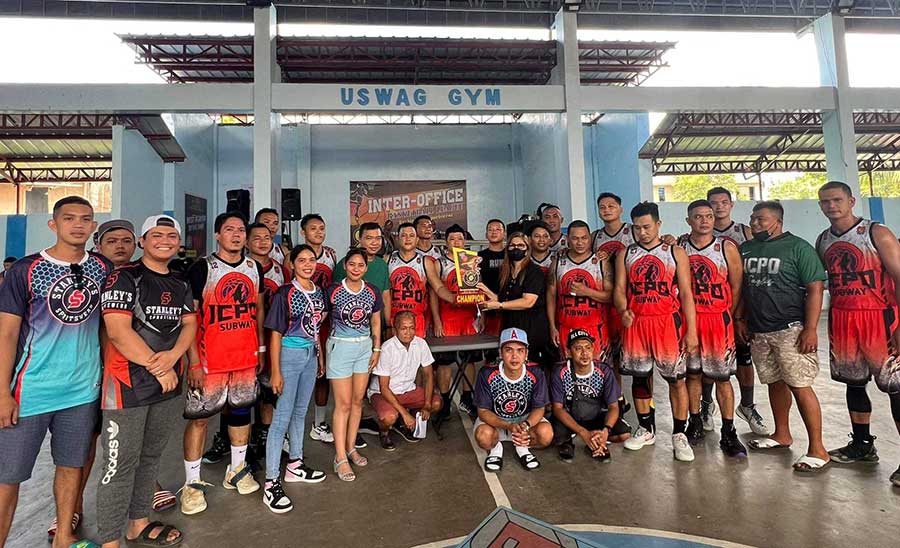 By Leobert Julian A. de la Peña
The ICPO Subway basketball squad ended its stellar 2022 Stanley's Sportswear Iloilo Inter-Office basketball tournament with the ultimate prize.
Going up against the undefeated SWAT Subway team in the championship grand finals, the ICPO hoopers played one of their best games of the season and prevailed in the nail-biting final game, 76-73.
Amer Emboltura showed out big time for the ICPO team and was hailed as the Most Valuable Player (MVP) after dropping an all-around performance of 16 points, six rebounds, two blocks, and a steal.
The tower of power from ICPO imposed his will underneath and scored on different crucial possessions that helped swing the momentum their way.
SWAT shot the lights out in the opening 20 minutes of the nip-and-tuck affair and always had answers every time ICPO and Emboltura made an offensive run.
The see-saw battle lasted until the final period but a huge blow was dealt to the SWAT team after superstar Gilbert Toreno fouled out of the game with 2:32 remaining.
Without their main gunner, SWAT missed several opportunities to score and could only watch the dominant Emboltura convert baskets underneath.
The championship trophy and the cash prize were awarded by Barangay Captain Rizaline Delmo of Quintin Salas accompanied by Ms. Caren Declaro, the owner of Stanley's Sportswear.
Meanwhile, during the battle-for-third game, the RBA Construction demolished the ICPS1 PNP, 102-85.
William Pillora once again carried the RBA offense and earned player of the game honors with an impressive 30-point outing.
Mr. Jojo Castro is the tournament consultant while the living legend Mr. Abwe Estenor is the league commissioner.