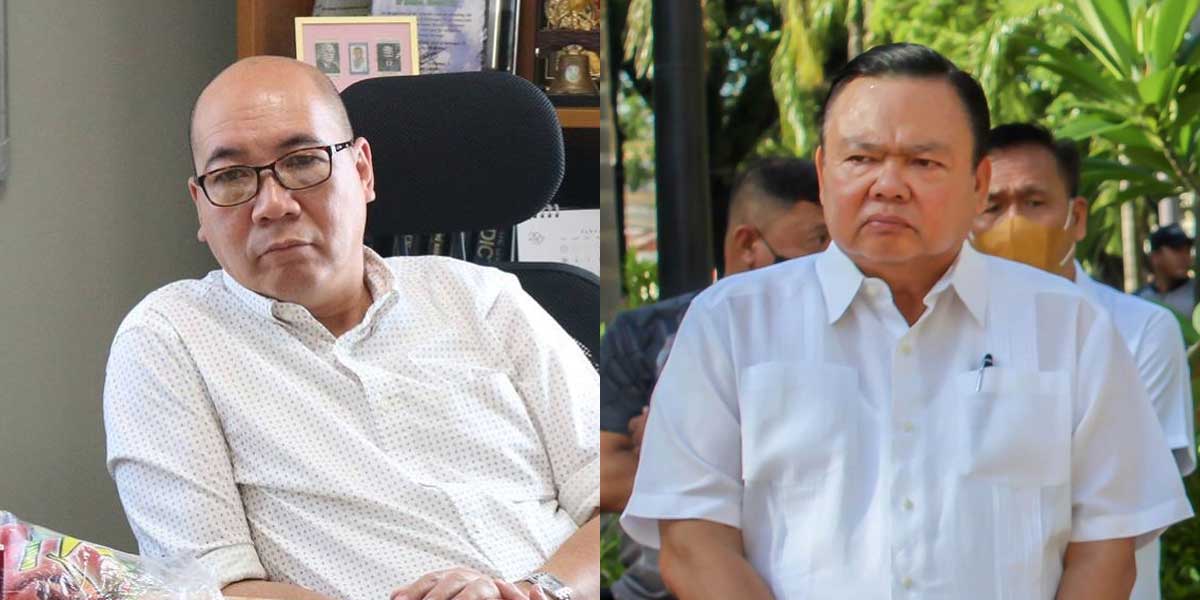 By Joseph Bernard A. Marzan and Dolly Yasa
Iloilo City Mayor Jerry Treñas on Friday blew his top over the Bacolod City government's transportation of nomad settlers from Mindanao but may have wrongly aimed at the person to blame for the mess.
In a statement, Treñas took a swipe at Familiaran on the transport of 80 persons identified as "Badjaos from Mindanao."
The persons left Bacolod for Iloilo via the Dumangas port. They were later spotted roaming and begging in Iloilo City.
Treñas said that he would declare the Bacolod vice mayor as "persona non grata" (unwelcome person) in Iloilo City.
Treñas made good of his threat by issuing Executive Order No. 083 series of 2023 Friday afternoon formally declaring Familiaran as persona non grata.
But the mayor did not stop there, repeatedly using the word "stupid" to criticize Bacolod's handling of the situation.
"I didn't like what [Familiaran] did. I plan to declare him persona non grata in Iloilo [City]," the mayor said.
"I cannot think of how stupid a local government can become[.] They must resolve this issue themselves[.] The stupidity of a government official is shown by the stupidity of his actions[.] I cannot imagine how stupid these officials have become," he added.
'WHY ME?'
Familiaran, who was acting mayor since Mayor Alfredo "Albee" Benitez was on leave, explained that the Bacolod City Department of Social Services and Development (DSSD) facilitated the transport, a move which he did not agree to.
The DSSD was supposed to "repatriate" the nomads to their home provinces in Mindanao, but 80 reached Iloilo City sans coordination with City Hall, much to the chagrin of Treñas.
Familiaran even apologized to Treñas in another radio interview prior to the Iloilo City mayor's tirades.
"There was no intention to make Iloilo as a 'dumping site' for Badjaos. In fact, yesterday, I called for a meeting of the team which rounded them up, and I educated them. There were lapses in the interventions made," Familiaran via over Brigada News Bacolod.
When asked for his reaction, the vice mayor told Daily Guardian that he had "lost his respect" for Treñas, whom he also described as "polok-polok" or someone prone to knee-jerk reactions.
"I have high respect for Mayor Treñas but it has faded, respect begets respect. He should've investigated before he knee-jerked," he said.
"The arrangement with the DSSD and the Badjaos tribe [was] even without my knowledge that they would be going home to Mindanao. Later they were taken to a vessel, which docked at Dumangas which was another LGU. How would I have control over their transport to Iloilo? Why would [Treñas] blame me?" he said further.
But Treñas did not believe Familiaran's statement on their intention to transport the nomads to Mindanao, adding that it should have been done via Dumaguete and not Iloilo.
"If indeed the purpose of the vice mayor Familiaran was to send the Badjaos back to their local government unit in Zamboanga then the most logical route was thru Dumaguete since there are RORO facilities from there," Treñas said.
"There was no reason at all to send them thru Dumangas. Furthermore, there should have been proper coordination. We are sending them back to Bacolod so that the vice mayor can properly send them back to Zamboanga," he added.
APOLOGY
In a bid to quell the verbal rumble, Bacolod City Mayor Albee Benitez issued an apology and explained what happened.
Benitez said that on June 21, 2023, "our Bacolod City Anti-Mendicancy Task Force received a complaint from the security guard of a warehouse along Bacolod Reclamation Area regarding the presence of several members of our Indigenous People (Badjaos) in the said area."
The task force, in coordination with the Punong Barangays of Barangays 2, 8, 10, and 12 and Police Stations 2 and 6, rounded up around 80 persons from these areas.
"After being interviewed and evaluated by our Department of Social Services and Development (DSSD), the majority of these families requested that they be sent to their home places. Acceding to their request, the city assisted them in going home by paying for their transportation fare via roro vessel," Benitez said.
Because of the large number of families handled by the task force, Benitez said it failed to properly coordinate with the province of Iloilo regarding the arrival of these families from Bacolod.
"With this, I would like to express my sincere apologies to the Local Government of Iloilo and to Iloilo City Mayor Jerry Treñas for this blunder. Rest assured that we will not make the same mistake again in the future as we value the harmonious relationship between the cities of Bacolod and Iloilo," he added.
As of this writing, Treñas has ordered Public Safety and Transportation Management Office (PSTMO) to round up nomads to be transported back to Bacolod.