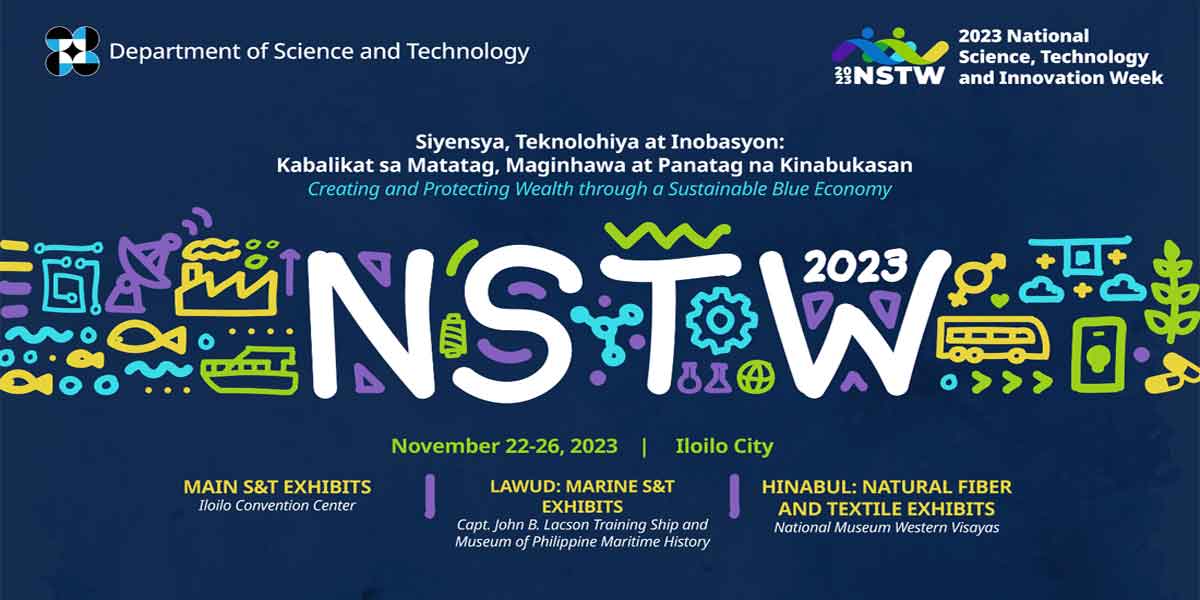 By Rjay Zuriaga Castor
Scientific and technological innovations with the potential to spur sustainable economic growth for the country will be the highlight of the National Science, Technology, and Innovation Week (NSTW) this year.
For the first time ever, the Department of Science and Technology has brought the NSTW outside Metro Manila, with Iloilo City hosting the event from November 22 to 26.
DOST-6 director Rowen Gelonga, in an interview with CNN Philippines "The Final Word" on November 17, said that the five-day celebration will highlight a range of research and development-oriented products and services from both DOST and the broader scientific community.
"There are so many new technologies and innovations in different fields of endeavor that will be showcased here in this year's event. Among others, we will showcase new innovations and technologies related to the blue economy, which is one of the sub-themes of our event for this year," he said.
The week-long celebration will revolve on the theme "Creating and Protecting Wealth for a Sustainable Blue Economy," dubbed "Siyensya, Teknolohiya, at Inobasyon sa Kabalikat sa Matatag, Maginhawa, at Panatag na Kinabukasan."
Gelonga emphasized that this year's celebration also adheres to the 2023-2028 DOST strategic pillars on the promotion of human well-being, wealth creation, wealth protection, and sustainability.
"Essentially, we will be showing the different research outputs that we have and trying to inform our stakeholders about the available technologies that can be adapted by the different sectors of society, from micro, small, and medium enterprises (MSMEs), local government units to private individuals," he stressed.
The DOST-6 director hopes that stakeholders will leverage these technologies for positive outcomes.
Gelonga pointed out that in this year's week-long celebration, they included "innovation," as the term itself refers to the actual implementation of new ideas and new technologies.
"It is even more important for us to ensure that all of these technologies, all of these new ideas are actually put into good use in order to address public welfare and concerns," he explained.
Eilleen Fernando, DOST-Technology Application and Promotion Institute Supervising Science Research Specialist, said that the exhibits will also be placed simultaneously in the Iloilo Convention Center and other venues within the city.
Fernando said the exhibits will be clustered into eight categories, including energy, transport and logistics; health; science, technology, engineering, and mathematics (STEM) education; environmental sustainability and resilience; job creation and livable and sustainable communities; digital economy and transformation; agriculture and food security; international linkages; and blue economy.
The DOST will also feature sustainable technologies such as a Safe, Efficient, and Sustainable Solar-Assisted Plug-In Electric Boat (Sessy E-Boat) and Vehicle-to-Everything Initiatives for Road Safety (VIROS).
A satellite exhibit in the Lawud Science and Technology Exhibit at the M/V Capt. John B. Lacson, Muelle Loney, will also showcase Iloilo's first-ever Aquarium Tunnel from November 22 to 26.
The DOST will also be introducing educational resources such as "Our Journey to the North: A Career Guidance Toolkit for Teachers" and a "Parent's Quick Guide to STEM." These two educational materials aim to assist parents and teachers in guiding students toward pursuing STEM education.