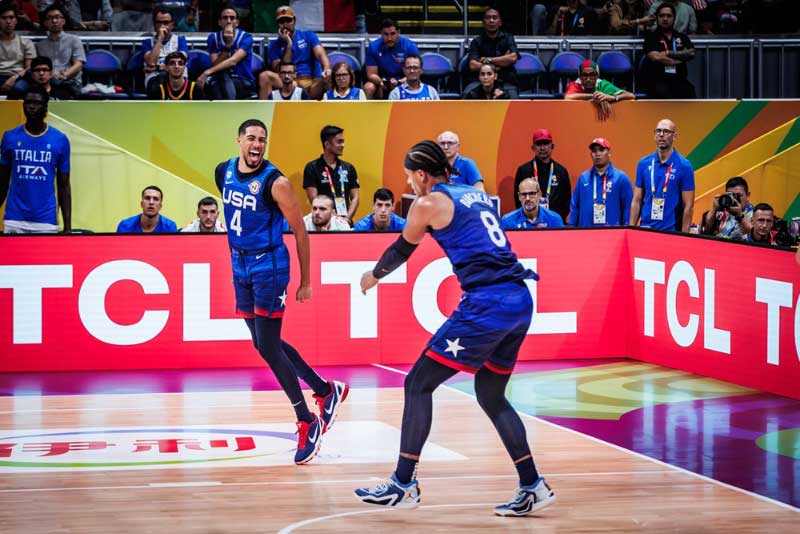 By Leobert Julian A. de la Peña
It didn't take long for the mighty USA team to redeem themselves after that disappointing 110-104 loss at the hands of Lithuania.
Hounded by critics that the FIBA World Cup is an entirely different stage for a pool of NBA players, the USA national team immediately shut their doubters after crushing Italy, 100-63, to punch a ticket to the semifinal stage of the global hoops games last September 3, 2023, held at the Mall of Asia Arena.
Team USA learned from that game against Lithuania and made some adjustments to neutralize the shooting prowess of the Italians, holding them to a dismal 7/38 shooting from the three-point line.
With offense always going to be there for the USA squad, their defense became an issue during their loss against Lithuania when they allowed the team to outshoot them from downtown and pulverize them inside the shaded lane.
However, USA's head coach Steve Kerr together with his pool of talented tacticians assisted by Erik Spoelstra and Tyrone Lue devised the perfect game plan that drowned Italy from start to finish.
It was team USA's full-court zone pressure that didn't allow the Italians to generate their offense from the three-point line. In addition, the Americans also mixed up their zone with several man-to-man actions to quickly switch when Italy ran the pick-and-roll.
It was majestic. What team USA did on the defensive end was enough to put them in the driver's seat of the quarterfinal clash as early as the first quarter.
USA led by as much as 22 points at the half and never let their advantage slip away in the next 20 minutes of the ball game.
Mikal Bridges led team USA's assault after pouring in 24 big points in just 18 minutes of action alongside seven rebounds and an assist.
The current Brooklyn Nets superstar embarrassed Italy in the first half when he already tallied 14 markers built from a 5/7 shooting from the field.
Tyrese Haliburton was also huge against Italy after torching them with 18 points off six treys and assisted the ball five times.